Vucic, Brnabic, Zaev and Rama stroll through the streets of Novi Sad: This meeting means a lot to us
Previously Vucic and Brnabic hosted a dinner in Novi Sad for prime ministers Zaev and Rama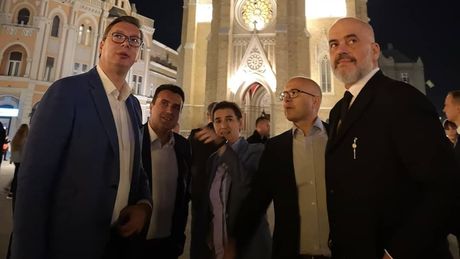 Foto: Instagram/buducnostsrbijeav
President Aleksandar Vucic said last night, during a walk in Novi Sad with the prime minister of Serbia and the prime ministers of North Macedonia and Albania, that this meeting means a lot to our three countries but also to others.
"I'm happy that we started taking care of ourselves and that we don't have a teacher, that we can in this way, with music in Novi Sad, rreach agreements on creating a better future for our workers, our peasants, especially for young people to stay in our countries," Vucic said during the stroll with Prime Minister Ana Brnabic and guests Zoran Zaev and Edi Rama.
A video of the four officials walking together was posted on the official Instagram profile of the Serbian president.
Previously, Vucic and Brnabic hosted a dinner in Novi Sad for the prime ministers, Zaev and Rama, with whom they will hold a trilateral meeting today to improve cooperation on better flow of goods, services and capital.
Rama didn't hide his enthusiasm with staying in Novi Sad and walking with his hosts, saying it was "amazing" that they were there and that, as he said, they are "trying to bring forward what has been said and said and said in different ocassions with our European friends."
Zaev said that improving cooperation between the three countries is important, because, he said, citizens expect it.
"This togetherness we present in Novi Sad is what we need to do - both politicians and the business community and everyone else because there is a huge capacity that is left untapped," Zaev said.
(Telegraf.rs/Tanjug)