Come to Belgrade's big fall night market: Serbia's best will offer products and share secrets
Belgraders had the opportunity to enjoy the aroma and taste of freshly prepared ajvar, jams and syrups as part of this season's caravan of winter stores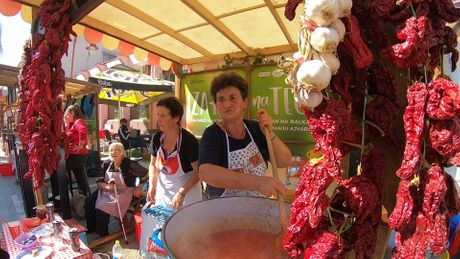 Photo: Telegraf
Belgraders had the opportunity to enjoy the aroma and taste of freshly prepared ajvar, jams and syrups as part of this season's caravan of winter stores held in Block 44's market.
Top producers from across the country took the opportunity to present their most original products of highest quality, but also to share with the caravan's visitors some secrets of their craft.
"We're trying to make something new and unusual: slatko (fruit preserve) made from ginger, hot pepper, dates, papaya, and traditional produce, blackberry jam, sour cherry, syrups...," said one of the traders.
On Friday, October 25, from 6 pm until midnight, the Block 44 Market will host the big fall Belgrade night market. Over 170 exhibitors have booked their spot. Among them are champions of Belgrade markets, young creative designers, artists, artisans, while Belgrade gastronomes will be in charge of preparing the most delicious food.
In addition to the diverse offer, visitors to the event will have the opportunity to enjoy the music played by DJ Brkati. If you love chats with neighbors, culinary treats, good music, and keeping up with the latest fashion trends, Block 45's market will be the place for you on Friday.
(Telegraf.rs)