Horrible crash near Budapest: A truck from Serbia hits two cars, 7 dead
The accident happened about three o'clock this morning when a truck traveling to Budapest crashed into the guardrail and crossed into the opposite lane, where it collided with two cars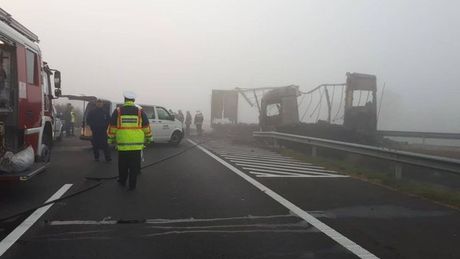 Foto: Twitter/Magyar Rendőrség
Seven people were killed this morning in a traffic accident near Budapest when a truck collided with two cars, Hungarian media have reported, saying that the truck had Serbian license plates.
The accident happened about three o'clock this morning when a truck traveling to Budapest crashed into a railing and crossed into the opposite lane, where it collided with two cars, Blikk.hu writes.
As stated, the truck driver was not injured.
Heten vesztették életüket egy hajnali balesetben az #M5-ön. Egy kamion átszakította a szalagkorlátot és a szembejövő sávban összeütközött két személyautóval. Az autók kigyulladtak, az utasok a helyszínen meghaltak. Az autópálya balástyai szakaszát mindkét irányban lezártuk. pic.twitter.com/YzsTB4cyGO

— Magyar Rendőrség (@police_HU) October 28, 2019
The Hungarian police Twitter account reported that seven people were killed in a collision early this morning on the M5 highway.
"The truck ripped out the guardrail and collided with two cars in the opposite lane. All three vehicles caught on fire and the occupants of the cars were killed on the spot," the Hungarian police said. The statement does not specify where the vehicles involved in the collision came from.
The Kistelek section of the highway was closed in both directions.
The Hungarian police have not officially announced the nationalities of the victims, although Hungarian media said that a Romanian family, parents with two children, were in one of the cars. Sadly, they all perished.
(Telegraf.rs/Tanjug)