Dacic and Godfrey lay the US flag raised along with the Serbian above the White House 100 years ago
It was also the first time that a flag of another country was raised above the White House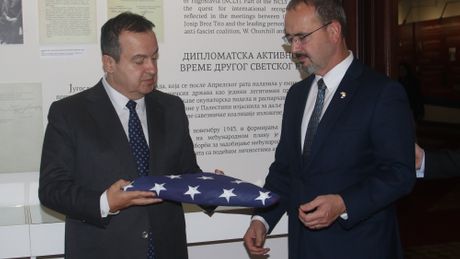 Photo: mfa.gov.rs
First Deputy Prime Minister and Minister of Foreign Affairs of the Republic of Serbia Ivica Dacic met today with the new ambassador of the United States of America to the Republic of Serbia, Anthony Godfrey.
The foreign minister welcomed the new US ambassador and wished him much success both personally and professionally during his tenure in the Republic of Serbia.
During the conversation, the officials expressed mutual readiness to continue working in areas of common interest with the aim of strengthening relations between the two countries, in order to strengthen constructive and dynamic political dialogue.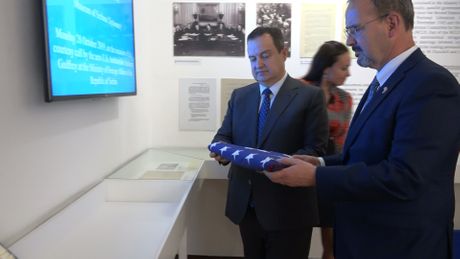 It was stressed that positive examples of a historical alliance - such as last year's commemoration of the centenary of the raising of the Serbian flag over the White House, as well as other examples of our countries' alliances during the two world wars and, in general, through history, should be continued.
After the meeting, Minister Dacic and Ambassador Godfrey took part in a ceremony to lay down the American flag which was 100 years ago raised above the White House together with the Serbian flag. The ceremony took place at the Foreign Ministry's Museum of Serbian Diplomacy. The event honored today was also the first time that a flag of another country was raised above the White House.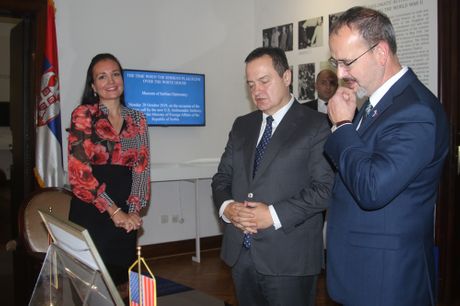 Dacic also presented documents symbolizing some of the most significant moments in the shared history of relations between the two countries, including a telegram that US President Woodrow Wilson sent to Serbian Prime Minister Nikola Pasic, expressing admiration for the bravery of the Serbian people and their heroism during the First World War.