We're not in an easy position regarding Kosovo, Vucic's message: We're waiting for EU's stance
He says that as the country's president he must act seriously and responsibly and that is why he doesn't expect Serbia to be in an easy position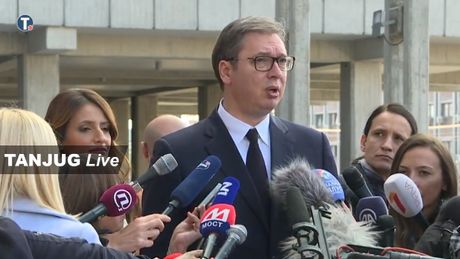 Printscreen: Youtube/Tanjug
Serbian President Aleksandar Vucic says Serbia will not have an easy position when it comes to resolving Kosovo and Metohija issue, since the US stand only for recognition of Kosovo's independence, and that will not change.
Asked by reporters to comment on Philip Reeker's statement that normalization leads to mutual recognition of Serbia and Kosovo, as well as whether the citizens are aware of the pressure coming from the West, Vucic said he is trying every day to tell the truth, which is that for the US Kosovo is an independent state.
"That's all they are interested in it, everything else is a trifles, but that's the essence. I am not one of those who will say - things have changed and will be different. Whatever US administration is in office, it will expect recognition of Kosovo," he said.
"But I expect the EU to express their position, because they didn't tell us at the beginning that recognition of Kosovo would be the end of the process. Instead they said it would be the signing of a binding document that would create conditions for normalization of relations between Belgrade and Pristina or Serbia and Kosovo, but nowhere was recognition of Kosovo explicitly mentioned. We are waiting to see what they will say," Vucic said, adding that it's not an easy position to be in, and that those who say otherwise are trying to tell jokes and in that way become more popular among the people.
He says that as the country's president he must act seriously and responsibly and that is why he doesn't expect Serbia to be in an easy position.
(Telegraf.rs/Tanjug)