Meteorologist explains Indjija storm: "It wasn't a tornado, but if it was summer - it would've been"
"Vortexes are dangerous, though short-lived. They can tear down a roof, break it, and even sway and turn over a car"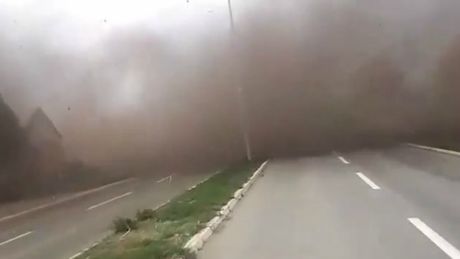 Foto: NS uživo
The wind that was blowing yesterday near Indjija, a town north of Belgrade, at one point looked to citizens like a tornado because of its circular shape. Meteorologist Nedeljko Todorovic tells RTS that such vortices are a consequence of the instability of the atmosphere and that they usually occur in the summer months.
He pointed out that it was lucky now is not the summer, because in that case, the wind would probably have been a tornado.
"This vortex is a sign of the possibility of a tornado forming, that is of a - for our climate - large-scale vortex forming, which in our country we call 'leeches'. If it was summer, a tornado would most likely have been created," said Nedeljko Todorovic.
Todorovic adds that these vortices are dangerous, although they are short-lived.
"They are not large in size, but the circular air movement can reach up to 100 kilometers per hour. Where they happen they can do damage. They can knock down a roof, break a roof, a fence, and even sway a car and turn it over," Todorovic told RTS.
Two people were killed
A serious crash that involved a truck and a car that happened just after the "tornado"on the Novi Sad highway near Indjija, killed the driver and a passenger in a car with Austrian number plates.
Telegraf.rs learned that the victims are two grandparents who had their three grandchildren in the car - 10-year-old twins and a boy of 2. The victims were identified as Radovan Filipovic (60) and Austrian national Dragica Filipovic (56). The children - L.N. (2), an Austrian national, and twins S.F. (10) and J.F. (10) - were injured.
Video: Tornado near Indjija causes crash
(Telegraf.rs/RTS)