Details from a hooligan clash and the most brutal fight between Red Star and Dinamo fans in Athens
Four years ago, a fierce clash between Red Star fans, "Delije," and those of Dinamo Zagreb ("Bad Blue Boys") took place at the Eleftherios Venizelos airport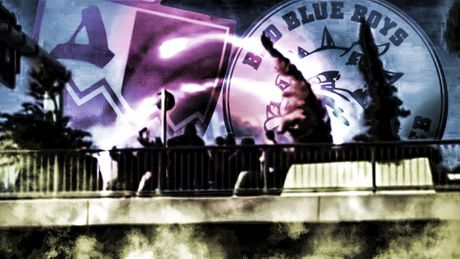 Ilustracija: Nikola Jovanović Printskrin: Youtube/Serbian Hooligans Channel
A fierce clash between supporters of football clubs Red Star Belgrade and Dinamo Zagreb took place in Athens on this day four year ago! The fight shocked everyone as no one expected it, but it happened at the Elefterios Venizelos airport in Athens, a day after the match between Olympiacos and Dinamo.
Around 300 Red Star fans embarked on the journey to Athens to support their fraternal club, Olympiacos, in their Champions League match against Dinamo.
Dinamo fans also made their way to the Greek capital, where they have a friendship with the supporters of the biggest rival of Olympiacos, Panathinaikos. The presence of Serbian and Croatian fans in the same city heightened the risk and the Greek police mobilized forces to prevent riots. They succeeded in doing so before and during the game, arresting about 90 fans in several raids - to then relax, thinking it was all over without incident.
That's why the following morning, two groups of fans met at the airport, as their flights to Zagreb and Belgrade were close to each other.
Panathinaikos fans had offered Dinamo supporter to be escorted to the airport, but they declined, saying they had good numbers and were capable of defending themselves. There were about 150 of them.
As the Dinamo fan group was split into two planes, one departed earlier, while the other stayed at the airport. They had no idea that they would soon come across Red Star supporters, who were catching a flight to Belgrade.
Mostly young people were in both supporter groups and they engaged in a fierce clash. There were about 30 Dinamo fans and about 70 Red Star supporters, armed with poles, chains, belts, flares... some Croatian fans also mentioned knives in the statements they made after the incident.
The clash occurred on an overpass in front of the airport itself, and the numerically superior Red Star fans ended up severely beating those of Dinamo. The footage showed many Croatian supporters looking for a way to save themselves by fleeing inside the airport building, while others remained lying battered on the ground.
Red Star fans even humiliated the beaten Croats by filming them, and there is a moment when one of them begs for mercy by saying, "The boys left me."
The epilogue of the clash were 19 injured Dinamo fans, one of whom suffered serious bodily harm.
Video:

Watch from a closer angle how Delijes fight ahead of the Young Boys game started
(Telegraf.rs)