Red Star suffers most convincing defeat at home in Europe: Only 5 teams scored 4 goals in Belgrade!
Only Maradona's Barcelona, PSG with Neymar and Mbappe in their ranks, Ludogorec after the extra time and Fiorentina all the way back in 1965 managed to score four times at Red Star's stadium, "Marakana"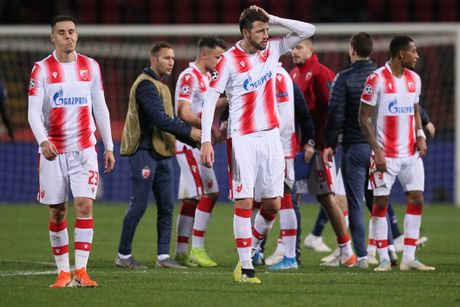 Tottenham signed itself in the history of Red Star with black letters. Not only did the English football club achieve the most convincing victory in their Champions League history after the London match against Red Star (5-0) - they will also be remembered as the team that dealt the worst defeat to Red Star in history at its own stadium.
In fact, the score equaled Red Star's negative record at Marakana with a previous defeat by Fiorentina, 4-0 at on September 15, 1965, as part of Round 1 of the Inter-Cities Fairs Cup, a competition that has not existed since 1971 when it was replaced by the UEFA Cup.
Nevertheless, the significance of the match against Tottenham and the competition in which it took place tells us that this is Red Star's heaviest defeat at Marakana in history.
Only Barcelona, PSG, Fiorentina and Ludogorets previously managed to score four times at Marakana In its rich history of European matches, Red Star conceded 4 goals at Marakana in just 5 games, including this one against Tottenham.
Red Star never conceded five or more goals in Europe at its own stadium, and up to four only to the aforementioned Fiorentina, Barcelona, ​​PSG and Ludogorets.
Barcelona did it with Diego Armando Maradona in its ranks on October 20, 1982, when they celebrated a 4-2 victory in the Cup Winners' Cup. At that match, Maradona scored one of the most legendary goals in the history of the Red Star Stadium, when he beat keeper Aleksandar Dika Stojanovic with a lucid lob.
PSG defeated Red Star 4-1 in the Champions League last year, with a consolation goal scored for Red Star by Marko Gobeljic. On that occasion Red Star also saw the magic of a football wizard like Neymar, who displayed all his talent in one move when he found the back of the net.
Video:

The magic of Neymar at Marakana
Ludogorets scored 4 goals in extra time, after the match ended 2-2 in the regular time, which was also the score in Razgrad in the first game of the 2016 Champions League playoffs.
Check out Totenehm's goals from Red Star's historic defeat.
(Telegraf.rs)