Serbian president will not travel to Zagreb: These are the reasons he has stated
He informed President of the European People's Party Joseph Daul of this decision, explaining the reasons for his absence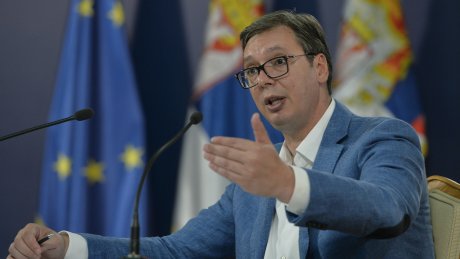 Foto: Tanjug/Rade Prelić
Serbian President Aleksandar Vucic has decided not to travel to Zagreb, Croatia, where he was to attend the European People's Party (EPP) 2019 Congres, Pink TV is reporting.
He informed President of the European People's Party Joseph Daul of this decision, explaining the reasons for his absence.
We publish the letter in its entirety:
- Dear President Daul, dear friend,
Let me thank you for inviting me to address the Congress of the European People's Party on November 20-21 in Zagreb.
The Serbian Progressive Party prides itself for belonging to the family of European People's Parties and I would like to take this opportunity to thank you, dear President, for all you have done, both for Serbia's position in Europe and for the position of the Serbian Progressive Party in the most important family of European political parties. Also, please convey my congratulations to our party colleague, Ursula Von der Leyen, on her election as head of the European Commission, convinced that in these difficult times, she will show the whole of Europe why our European People's Party is the best, most serious and responsible choice.
Dear friend,
Thank you for inviting me to personally address the Congress of the European People's Party in Zagreb on November 20. To me, your invitation is a great honor and a request for an even more responsible approach to solving many problems in the region in which we live. I want to inform you that I prepared, I believe, a serious analysis of the developments in the region, as well as what we must all do together in the coming period.
However, for weeks now - and I know that Jadranka Joksimovic informed you about it in her letter - there has been a real harangue in almost all Croatian media against my arrival in Zagreb and Croatia. I would like to add that there were and there are no real reasons for this kind of campaign, except that some circles in Croatian society cannot get used to a stronger role of Serbia and the fact that Serbia is rising economically and is no longer on its knees politically. As you know, Mr. President, I am easily scared, but have instead resisted such attacks many times and responded to organized attacks.
Both strongly and seriously and responsibly. Also, there is no doubt that going to Croatia and clearly representing Serbian policy would bring me significant points in Serbia, but I also took into account what is for me the most important part of the policy that I represent, which is to extend a hand and open the door for better relations between Serbs and Croats, between Serbia and Croatia in the future. At the same time, I do not wish to in any way influence a further deterioration of the position of Serbs in the Republic of Croatia.
Because of all of the above, I inform you that I will not attend our Congress in Zagreb, believing that it also makes your job easier. Please understand my absence as proof of strength and desire to change things for the better, not proof of weakness - the letter states.