Albanians laugh at themselves after losing to Serbia by 105 points: Comical scenes after the debacle
What else could they do...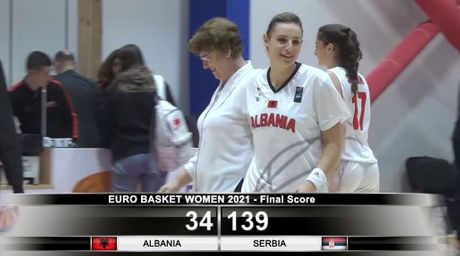 Not many people would feel like laughing after losing a game of basketball by 105 points, but that's not true of Albanian women.
In a match played in Durres, Albania, the Serbian squad outclassed the home team 139-34. The game was played in a friendly atmosphere, our national anthem was welcomed with applause - however, our players showed no mercy on the court.
The match was played as part of FIBA Women's EuroBasket Qualifiers 2021, and the unlucky Albanians had to come to terms with the fact that it would only serve to provide a points difference.
In the end, they were not depressed, on the contrary. As the scoreboard showed 34-139, the coach laughed as she commented on the match with the girls. On the other side, our coach could only enjoy herself.
"The difference between the two teams is important... What is most important for the women's national team is that we go into every game with our maximim and play until the last minute, as if it were a matter of defeat or victory. Another important thing are the young players who not only had a chance to play but also scored some serious points. We have two girls of 17 years - Zaric and Popovic and one who is a little older, Jovana Nogic, along with Turudic and Bogicevic who didn't play today but will get a chance on another occasion," head coach Marina Maljkovic said after the game.
"All of them have shown a strong desire to play for the senior national team, to understand the senior national team system and to be a part of it in the near future," said Maljkovic.
(Telegraf.rs)
Pošaljite nam Vaše snimke, fotografije i priče na broj telefona +381 64 8939257 (WhatsApp / Viber / Telegram).