Migrants fleeing from Bosnia to Serbia, walking into icy Drina River, jumping onto moving trains
Videos published by the media shows migrants crossing the Drina River as if it were a stream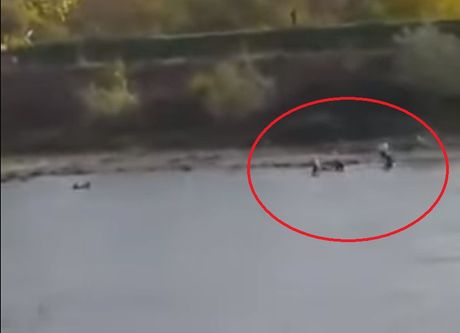 While a solution is being sought for the migrant crisis that has hit Bosnia and Herzegovina, the media is publishing photos and videos of migrants attempting to cross into Serbia via the Drina River, because they can find more humane treatment and living conditions here.
An accident on the railway bridge in Karakaj near Zvornik, when a migrant, in an attempt to hop onto a railway wagon and reach Serbia lost both his legs, has confirmed that migrants are trying in every way to reach the territory of a country where they will be taken care of  in some way and treated like human beings, writes Bosnia-based website Avaz.
The footage published by the media shows migrants walking into the Drina River in order to cross into Serbia.
The videos were made in the Zvornik area, more precisely from the Drina bank at the entrance to the town.
As stated, migrants are trying to cross from Bosnia and Herzegovina into Serbia at any cost these days - where they are greeted by the Border Police and sent back to Bosnia and Herzegovina.
Those who manage to reach the territory of Serbia are mostly accommodatd in one of the many migrant centers.
Video: Migrants reportedly set fire to a camp in Greece
(Telegraf.rs/Tanjug)
Telegraf.rs zadržava sva prava nad sadržajem. Za preuzimanje sadržaja pogledajte uputstva na stranici Uslovi korišćenja.