Arrests across Serbia: Treasure diggers organized theft like you've never heard of
Amazing organization, and even more amazing loot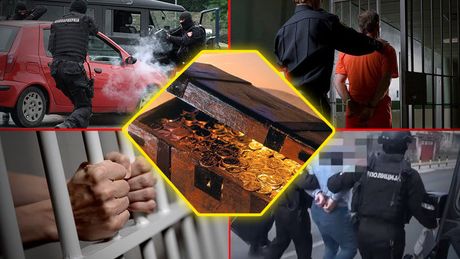 Foto-ilustracija: Tanjug/Jaroslav Pap, Profimedia, MUP, Pixabay
As many as 13 people have arrested in an international operation conducted in cooperation with the Italian authorities, on the order of the Serbian Organized Crime Prosecutor's Office.
According to the Organized Crime Prosecutor's Office, after months of operational work and implementation of special evidence-collecting activities in cooperation with the Organized Crime Unit, it has been established that there are grounds for suspicion that this is an organized crime group, which in the period from December 24, 2018 to date, in various locations of Serbia, used metal detectors to find and seize items that represent cultural goods, i.e., goods that enjoy prior protection of Serbia in accordance with the Law on Cultural Property, and are therefore owned by Serbia.
"There is a suspicion that this criminal group used digging tools to detect such items in the soil, then dig them up them, hide them in predetermined locations, perform authentication and market value assessment, and then sell them to buyers in the country and abroad."
"These are ancient Roman coins dating back to the 3rd century AD, cameo carvings, fibulas, etc. By finding and selling these, the organized criminal group achieved multi-million illicit gains," the prosecution has stated.
Arrests and searches of apartments in several locations throughout Serbia were ongoing on Monday morning. The suspects are accused of committing the crime of association for the purpose of committing criminal offenses.
The Prosecutor for Organized Crime will - after police officers bring the 13-member group to the Office of the Prosecutor with a criminal complaint - question the detained persons and decide on the further course of the criminal proceedings.
Serbian customs officers recently discovered valuable items
Serbian customs officers, in cooperation with the police on November 14, 2019 discovered and prevented an attempt to smuggle invaluable antiques across the Gradina crossing.
See the photos of the ancient objects here
Video: One skull next to another - the Roman legionaries' camp in Viminicium., Serbia
(Telegraf.rs/Blic)