Weather warning for next 3 days: Stormy wind, strongest gusts will happen in this part of Serbia
Gale-force gusts are expected in southern Banat and the lower Danube region Foto: Tanjug/Dimitrije Goll
The RHMZ has issued a warning about strong and stormy southeast wind that is in effect from today until the end of the weekend.
These three days are expected to be windy with strong and stormy southeast winds in the Kosava region. The situation will be particularly critical in the south of Banat and in the lower Danube region with gusts of up to 24 meters per second.
Because of this warning, the public company Roads of Serbia (Putevi Srbije) is urging participants in traffic to be especially careful when driving in the coming days.
They are advised to use winter tires, obey speed limits, and adjust their speed to the conditions of the road.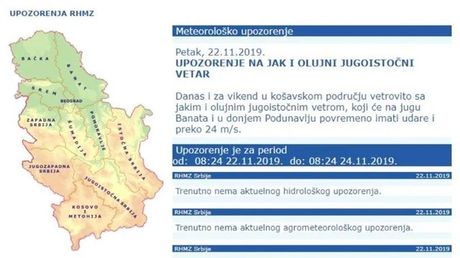 For Friday, RHMZ announced moderately cloudy weather with sunny intervals, except in the Timok Krajina, where it will be gloomy, occasionally with drizzle.
Low clouds and short-lived fog are expected in the morning. It will rain in the evening and during the night, with clouds spreading from Montenegro through southern and western Serbia, to Vojvodina.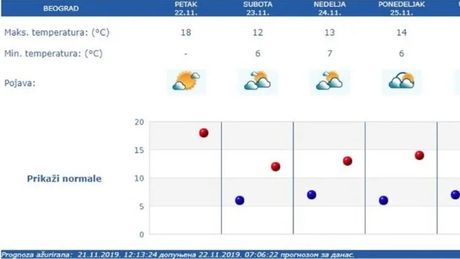 The wind will be weak and moderate, occasionally strong in Pomoravlje and the southern Banat regions. In the evening and during the night Kosava will strengthen, especially in the south of Banat, where storm-strength gusts are expected. Temperature lows will range from 3 to 9 degrees centigrade, while the highs will reach 14 to 19 degrees. Belgrade will be moderately cloudy with sunny intervals and dry during much of the day.
The wind will be a moderate breeze, southeasterly. The lowest temperature will be around 9 degrees and the highest around 18 degrees. Short spells of rain are expected in the evening and during the night, with the strengthening of the Kosava wind.
Until Monday, it will be mostly cloudy and dry, cloudy only in the Timok Krajina, occasionally with light rain. In the Kosava region, the southeasterly wind will again pick up, occasionally reaching storm-strength gusts in southern Banat and the lower Danube region.
Starting from Tuesday, the weather will be mostly cloudy, with rain in places, and with the southwest wind weakening.
(Telegraf.rs/Tanjug/RHMZ)