"We're grateful to Nepal for supporting our sovereignty": Dacic meets with Gyawali
Nepal has voted several times against Kosovo's admission to Interpol, they abstained when Pristina was a candidate to become a UNESCO member, and our country is therefore ready to support Nepal in the same way on any issue on the international agenda - Dacic said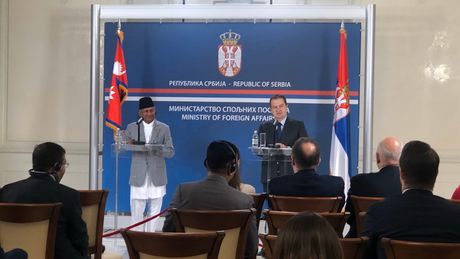 Foto: MUP Srbije
Foreign Ministers of Serbia and Nepal Ivica Dacic Kumar Gyawali addressed a joint press conference after today's meeting to say that there is a high level of understanding between the two countries, as evidenced by a memorandum on political consultations between Serbia and Nepal that they signed.
Dacic recalled that this year marks 60 years of diplomatic relations between the two countries, that they have a long tradition of relations, since the era of Yugoslavia and during the Non-Aligned Movement, and emphasized that Nepal has firmly supported the territorial integrity and sovereignty of Serbia.
"Nepal has voted several times against Kosovo's admission to Interpol, they abstained when Pristina was a candidate to become a UNESCO member, and our country is therefore ready to support Nepal in the same way on any issue on the international agenda," Dacic said. He stressed that as much contact as possible is needed between Serbia and Nepal in order to develop cooperation in all fields, and that Serbia will for that reason open an honorary consulate in Nepal, while he expects Nepal to do the same in our country.
Dacic also said that Nepal last year achieved economic growth of 7 percent, and that this is why it is important to intensify economic cooperation between Serbia and Nepal, as well as to connect the economies of the two countries.
"We are ready to cooperate on the military-economic front, to abolish visas for diplomats and ordinary citizens," said Dacic, pointing out that next year will be the year of tourism in Nepal, further enhancing cooperation in the field of tourism between the two countries. One idea is to exchange street names in the two nations' capitals.
Nepalese Foreign Minister Pradeep Kumar Gyawali also praised the high level of understanding between the two countries and recalled that Nepal supports the territorial integrity and sovereignty of Serbia, as the country adheres to UN's fundamental principles as basic principles of its foreign policy. He stressed the need to improve bilateral relations and said he was positively surprised by Serbia's strength in sports, agriculture, technology and music.
"Serbia has made great strides in technology and we believe that will further stimulate development of relations between our two countries," said Gyawali.
"Visit Nepal, we have a big business potential, we are between two huge markets, between China and India," said the Nepalese minister and concluded that Serbia has always been a solid partner in bilateral and multilateral terms.
(Telegraf.rs)