Courier from Nis was lured into a trap and robbed: "He shot 4 times, he was ready to do the worst"
In his six years working for the service, Dejan never encountered a similar situation; what happened to him affected him in a way that he had to get a sedative injection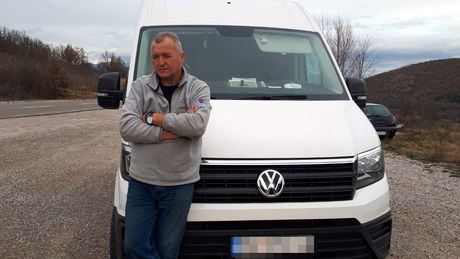 Foto: Telegraf/ D.K.
52-year-old Dejan Jocic, a resident of Nis, a town in the south of Serbia, who works as a driver of the AKS courier service, was robbed on Wednesday in Kursumlija. Two robbers, shooting from a pistol, seized his pouch containing 170,000 dinars and personal documents after luring him into a trap by ordering a vacuum cleaner that was to be delivered through the service.

Dejan says the package with the vacuum cleaner was to be delivered to Dragan Jovic in Doktora Melgarda Street.
"I arrived to this street at about 3:30 pm after previously speaking with the person who was supposed to receive the package. This man told me to drive down the street as his wife would wait for me at the address. I followed his instructions, came to the end of the street, but saw no one. I called him again on the phone, and he told me to go back because I had missed the house," Jocic describes the way he was trapped.
However, on his way back, the courier found that his path was blocked.
"The road was blocked by some rocks, right in the area of a wood. As I was thinking what to do, two men wearing balaclavas emerged from the wood. One fired a shot in the air and opened the door of the vehicle. He then fired another shot and said, 'Give me your pouch!' The other one was standing next to him holding a baseball bat, I realized that he was ready to attack me," Jocic recalls the bandit attack.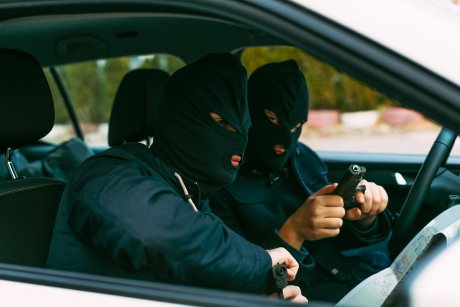 After taking his pouch, the robber fired again.
"He ripped the pouch off my shoulder, I always keep it by myself, since all of the money is there. He continued shooting, firing a total of four shots, proving that he was ready to do the worst. I'm convinced he was ready to kill me in order to rob me. It was like in a movie, I'm still out of my mind, the ambulance gave me an injection to calm down," Jocic said.
He points out that he was surprised to be attacked because he has only had pleasant experiences with the people of Kursumlija.
"I've been working in the courier service for six years, delivering goods in Kursumlija and nothing bad has ever happened to me. On the contrary, people are always kind, they would always invite me into the house as their dearest guest. That's why I'm surprised with what happened to me, this deserves life imprisonment, bullets were flying around my head, the stress I experienced will be hard to forget," the robbed courier is bitter about his experience.
Another shock after the robbery
Jocic says he learned from the police that his pouch was found burned down.
"My IDs have been burned, everything was in there. I don't have my ID card, nor my driver's license, I cannot work until I have a new one. It will take me a long time to retrieve all the documents, my credit cards were also in there. But most importantly, I survived, it could have ended differently - and all for 170,000 dinars (1,440 euros)," says the victim.
Video: Shooting and robbery near Leposavic: 3 employees of a money transfer company injured
(Telegraf.rs)