Horrific photos from highway where 3 died and from the hospital where doctors are fighting to save 8
A disastrous crash of a truck and a van that was in the stopping lane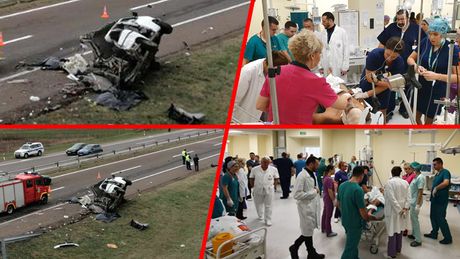 Foto: KC Niš, Telegraf
Three people have been killed while six were seriously injured in a traffic accident that occurred at 10.35 am on the Belgrade-Nis highway near the village of Gornja Trnava.
The accident happened when a truck with Kraljevo license plates drove into a van with Kragujevac plates, that was carrying 10 people. The van, as we learned from the scene, was in the stopping lane.
There are three dead on the scene, covered with black nylon. The van was completely crushed by the force of the impact. Apart from the chassis, nothing was left of it. The highway guardrail has also been destroyed during the crash. The truck that hit the van was moving so fast that it continued for another 100 meters after the collision before the driver managed to stop it. Video from the scene:
The eight injured people have been taken to a hospital in Nis. They all have serious injuries and the doctors are fighting to save their lives. (D.K.)