Vucic with Russian diplomat: Upcoming meeting between Serbian and Russian presidents in focus
The president of Serbia and the deputy minister of foreign affairs of the Russian Federation discussed bilateral relations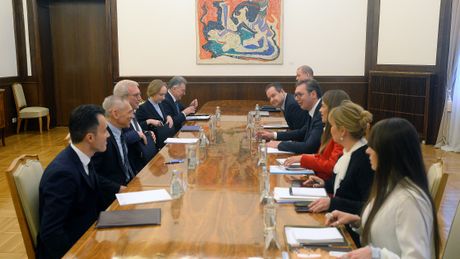 Foto: Predsednistvo Srbije
Serbian President Aleksandar Vucic met with Russian Deputy Foreign Minister Aleksandr Grushko ahead of a meeting with Russian President Vladimir Putin in Sochi on December 4.
Vucic and Grushko discussed bilateral relations between the two countries, especially in light of preparations for a working visit and a meeting with President Putin on December 4.
Deputy Russian Foreign Minister Grushko conveyed to the president greetings from President Putin, Prime Minister Medvedev and Minister Lavrov.
Vucic expressed his satisfaction with the dynamic of the meetings of high officials of Serbia and Russia. He also stressed that the meeting is of great importance to him, as an opportunity for a meaningful discussion and exchange of views on global and regional issues, as well as the most important issues of Serbian-Russian cooperation, especially economic.
President Vucic thanked Russia for understanding our state and national interests, as well as for its active support in guarding Serbia's territorial integrity and sovereignty, especially in international organizations.
He also thanked Russian officials for visiting Serbia frequently, as it speaks to Russia's desire to maintain close relations with our country. The two interlocutors noted that the implementation of the agreed projects, especially in the field of energy, as well as transport infrastructure and high technologies, is progressing well.
President Vucic and Russian Deputy Foreign Minister Grushko also discussed the regional situation, expressing hope that peace and stability would be preserved in the Western Balkans.
President Vucic emphasized that Serbia remains true to its policy of military neutrality, which it will clearly and unequivocally confirm by adopting appropriate strategic documents.
The meeting was also attended by Russian Ambassador to Serbia Aleskandr Botsan Kharchenko.
(Telegraf.rs)