Iranians become Orthodox, live in 5 sq meters in Banja Koviljaca, dream of home to celebrate slava
As they await the completion of the asylum process in our country, the pair will hold their first exhibition of joint paintings and handcraft on December 9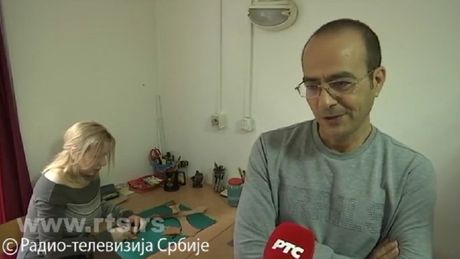 Printskrin: RTS
Migrants from Iran Muhamed and his wife Atusa, who live in the Asylum Center in Banja Koviljaca, at the beginning of the year converted to the Orthodox Christian faith in a church Loznica, receiving the names Mihailo and Teodora.
As they await the completion of the asylum process in our country, the pair will hold their first exhibition of joint paintings and handcraft on December 9 in Belgrade.
A five-square meter room is a temporary home, but also a small studio for Muhamed and Atusa, that is Mihailo and Teodora. By painting and engraving, they say they are trying to make themselves feel useful, but also spend the time at the Asylum Center, they told RTS. "I have been painting and doing calligraphy since childhood. I paint motifs from Persian poetry, which is very important for our people, and in this way I try to make a connection between Iran and Serbia. My paintings also include horses, which are my great love because I was a riding champion, but also portraits of women who symbolize beauty," says Muhamed, that is, Mihailo.
Mihailo and Teodora don't want to move on to a western European country, but see their future in ours. Both are highly educated - in the past, Mihailo worked as art historian and archaeologist in Iran. They have been staying in Serbia for over a year, and on December 10 they will celebrate their slava (family patron saint day, a custom unique to Serbian Orthodoxy) - the Feast of the Baptism of St. Jakov the Persian.
"I think Serbia is a safe and beautiful country. I love your people, you are very kind and friendly. I've made a lot of friends here and I can say that I feel at home," Mihailo told RTS. "We have applied for an asylum permit in Serbia and if we get one, we are planning a life outside the asylum center, our home and family. We will continue to pursue art, and try to bring the culture of Iran closer to the Serbian people," stresses Atusa, that is, Teodora.
Mihailo's paintings and Teodora's copper carvings will be exhibited at the House of Emigrants and Serbs from Region (Matica iseljinika i Srba u regionu) in Belgrade. They received help in organization and procurement of materials from the Commissariat for Refugees, the IOS organization, and the Asylum Center in Banja Koviljaca.
(Telegraf.rs/RTS)