Igor, first androgynous model in Serbia, reveals for Telegraf why he started dressing into a woman
People are amazed by his beauty at fashion shows, so he is often asked whether he is a man or a woman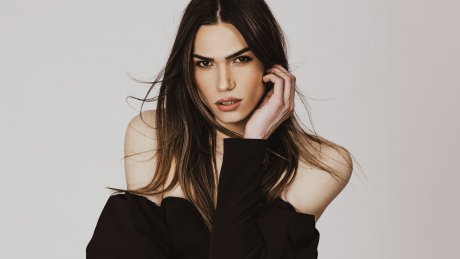 foto: Mirko Tabašević
When Igor Ivanovic, as a joke, went to a casting along with some friends, he never dreamed that he would be accepted easily, and soon have his first book. Already at that point he found modeling interesting, though he had no expectations.
He may have mostly built his image on being confused with a woman often - but this is precisely his brand that he boldly walks the runways with - today there is almost no designer that he hasn't worked with.
"It was quite an accident when I got one of my first jobs, to do an editorial wearing women's clothes, that I can carry both. It all started then. I am someone who has always stood out from most people, both physically and mentally. I am honestly often not aware of myself nor do I perceive myself differently from others. Perhaps this is because my family has always stood by me and never looked at me differently," Igor tells Telegraf in an interview. Have there been any prejudices?
"I don't know if there is a person in Serbia who hasn't encountered prejudices? As far as I'm concerned, of course, there have been some on all sides, and even in my industry, but I'm someone who has never paid attention to prejudices or was interested in them. It's always been important for my family and friends to know who I am and what I am, and people like people will always talk about whatever you do," he says, adding that unfortunately, Serbia and the Balkans are lagging behind in everything - but that fortunately, that is slowly changing. He says he quickly forgets bad things, which leaves only nice ones in his memory. The same goes for all the ugly things he has heard said at his expense.
"I quickly get a feel for whether one of my colleagues has a good or a bad vibe towards me, and a sign of exactly what my stance should be. As for models, I don't think they are jealous, at least I think so, maybe I'm wrong? Mostly, what happens is that women models are the ones who were are jealous. But that is exactly why every one of us should know that all of us are our own persons whatever we do. He still works most for the domestic market, but the world has started to show an interest.
"So far, I've only done one shoot abroad. Honestly, I was more focused on the university and the jobs here, of which there have been  quite a few. I have to admit that my goal was for our designers and fashion audiences to embrace and introduce something different to the fashion scene. False modesty aside, it hasn't been easy. Now there are new jobs in the foreign market, and I'm slowly getting ready for the Paris Fashion Week. I think the right time for working broad is just coming." Igor is aware that his looks cannot be integrated easily with all commercial brands, but high fashion houses are a great ambition for him. Just as they are for Andreja Pejic.
"I think then he, now she, as well as the designers she worked with, introduced something totally new and different to the fashion scene. I have to admit that Andreja worked a lot and was very interesting until she had the sex change, because that was exactly what made her special and what made her special and unique. It's certainly important that she is now happy and content with herself, in her own skin." Ivanovic's role models are not from the fashion world. One of them is Austrian painter Egon Schiele, and he receives eternal support (besides his parents) from his grandmother. He is currently completing his studies in fashion design, so combining this with art is definitely work he would like to pursue in the future. In the end, he revealed to us which Serbian designers could easily compete on the international scene.
"There are several, and one of them is Dragana Ognjenovic, with whom I have had a very good cooperation for a couple of years, and I love her and her work very much, also privately. In general, I think that we Serbians are a very talented people and that we have that something, but as I said, unfortunately we are lagging behind and it's hard for people, even some designers, to embark on new things that don't feel safe. From my perspective as an artist and designer, this is completely wrong," Ivanovic concluded his interview for Telegraph.
(Tara Tomovic/Telegraf.rs)