Four of the most memorable moments from the Vucic-Rudan "clash" on Pink TV
The comments and questions of the author, known for her sharp tongue, and the Serbian president's answers, are being talked about since last night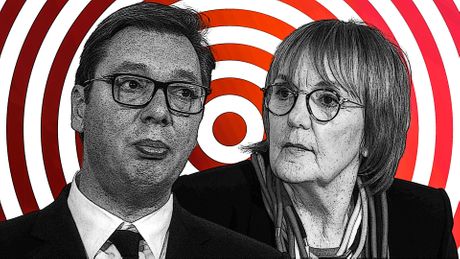 Ilustracija: Nikola Jovanović Tanjug/Predsedništvo Srbije/ATA Images
Serbian President Aleksandar Vucic made a guest appearance on Pink TV last night, along with Croatian writer Vedrana Rudan and journalist Milomir Maric. Their participation in this show attracted a lot of attention, especially the "clashes" between Rudan and Vucic.
The comments and questions of the author, known for her sharp tongue, and the Serbian president's answers, are being talked about since last nigh.
From the start, Rudan colored the show and set its pace, complaining that Vucic should not be taking up time to give long answers to the host's questions, to which Vucic said he could stay silent from that point on. During a similar exchange, he jokingly remarked that he and Milomir Maric could also leave the show, which would make the strongest impression.
Vedrana Rudan stressed that she also agreed to be a guest because she, overall, likes "young and handsome men" such as Vucic, and said that this made up her mind, and, "especially if he is the president of a neighboring country, and a brotherly one." These are moments from the show are definitely the most memorable:
"Will someone kill you?"
In the part of the show dedicated to the topic, "The Rifle of King Milan" that Russian President Vladimir Putin gifted to President Aleksandar Vucic in Sochi, which according to some historians is "symbolic" Vucic mentioned the killings of some Serbian rulers, and Rudan asked him :
"Will somebody kill you too?"
Vucic replied, "I guess not," to which she said, "Let's hope so... Are you sure you won't make history that way?"
"How can I be sure," said Vucic, adding that he hoped to make history because of what he does for Serbia.
Rudan added that he "constantly has a target on his chest" to which the president said that others put it there, not him.
"Not you, because you're not suicidal, but when someone holds a target on their chest, they often get a bullet," she said.
"Be a little abnormal!"
President Vucic spoke about attacks against him and said that the lies would start to dominate and then spread uncontrollably if he kept silent about them.
Rudan said it was immature for a president reacted to every little thing, while he emphasized that he was just a normal man.
"Don't be normal, be a little abnormal," the writer recommended.
"You bother America because you're tough"
Not only the fact that you talk all the time makes you different from Milosevic, Rudan said, during her "sparring" with Vucic.
She explained to Vucic that he was bothering America because he was "still tough" and that he should think more seriously about his political destiny.
According to her, "Vucic is still tough" and this is a problem for America, and then she asked him: "Will you sign that thing about Kosovo" - to which the Serbian president shook his head negatively, making her conclude:
"Then they'll knock (on your door) again."
Rudan revisited the topic of the threats that Vucic receives several times, including in the context of Serbia's neutrality and how dangerous that is. Rudan said the EU has a defined stance and that if there is resistance, they don't listen.
Vucic said small countries have a great chance, to which Rudan retorted, "until they get rid of you."
Vucic asked in what context, and she replied, "physically".
"Is it suicidal to be president in Serbia?"
At the end of the show, Rudan also asked if he was suicidal to be president in Serbia, with Vucic saying that he didn't think so. "But your doctors think so," she continued, to which Vucic concluded, "I have no chance against you... You deserve the show."
The sharp remarks made by the writer didn't spare the other guest of the show. At some point, Milomir Maric addressed Vucic informally, in the second person singular, and Rudan immediately reacted.
"Why are you addressing the president in the second person singular? Behave yourself. This is not Cyrillic," the author told Maric, who is the host of a talk show called "Cyrillic" on another television. Vedrana Rudan is a well-known Croatian writer, journalist and blogger, known for her harsh articles, where she criticizes contemporary society, politicians and Croatian nationalism. In 2003 she became a writer and has published more than 10 books.
(Telegraf.rs)