Varhelyi could visit Serbia by end of January 2020: Brnabic with new EU enlargement commissioner
The prime minister said that she also talked with Varhelyi about quotas on steel imports introduced by the EU to all third countries, including Serbia Serbian Prime Minister Ana Brnabic spoke yesterday in Rome on the sidelines of the Central European Initiative (CEI) summit with new EU Enlargement Commissioner Oliver Varhelyi, among other things, about the possibility of his visit to Serbia by the end of January next year.
"We discussed that he may set aside time to visit Serbia by the end of January, as well as what we can expect from the new methodology for EU enlargement - how much and in what way it will affect our EU talks and the dynamics of negotiations, which must be different," Brnabic told reporter in Rome, following the plenary session of the Summit.
She added that election conditions in Serbia, what they are today compared to 2012, have also been discussed, as well as what has been done and how committed both the president and the government of Serbia are to working with the EU and with European parliamentarians.
The prime minister said that she also discussed with Varhelyi the quotas on steel imports introduced by the EU to all third countries, including Serbia.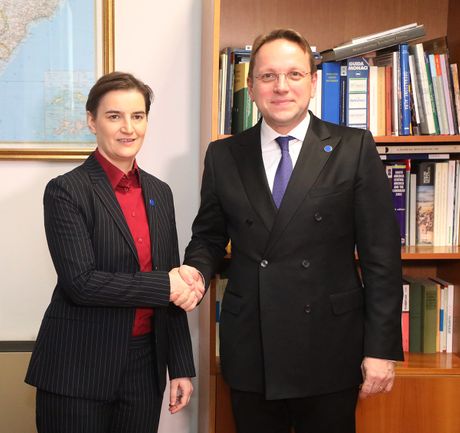 "We spoke about what the policy of the new European Commission will be in relation to this issue, which is extremely important. Significant in economic terms, but, and I said that, it's also a political issue that we want to raise with the new EC," said Ana Brnabic.
She conveyed that Varhelyi promised to discuss the matter with European Trade Commissioner Phil Hogan. The prime minister added that she hoped and expected to travel to Brussels to discuss the issue.
Brnabic meets with Conte on sidelines of CEI Summit
Serbian Prime Minister Ana Brnabic met with Italian Prime Minister Giuseppe Conte in Rome yesertoday on the sidelines of the Central European Initiative Summit.
Brnabic and Conte, whose meeting lasted longer than planned, also discussed holding the fourth joint session of the two governments next year to talk about concrete projects of Italy-Serbia cooperation.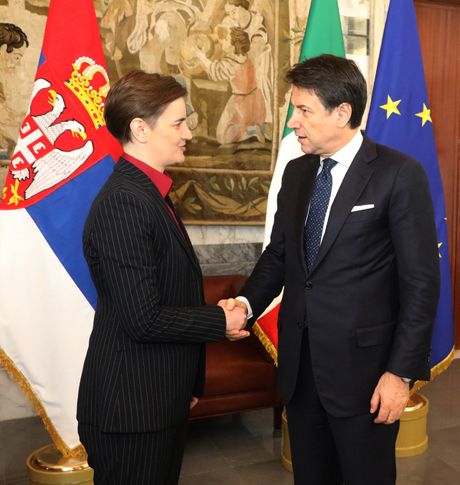 The two prime ministers discussed Serbian-Italian relations, strengthening economic and political cooperation, as well as Serbia's European integration and jointly addressing the challenges Europe faces.
"During the meeting we discussed our really good relations, economic and political, as well as impressions from Conte's official visit in March this year, which is also the year of the great anniversary - 140 years since diplomatic relations were established between Serbia and Italy and 10 years of our strategic partnership," Brnabic told reporters.
Conte visited Serbia in Marcc - this was his first visit to Belgrade during which he met with the Serbian state leadership.
Serbian President Aleksandar Vucic at the time expressed his special gratitude to Conte for supporting Serbia's European path.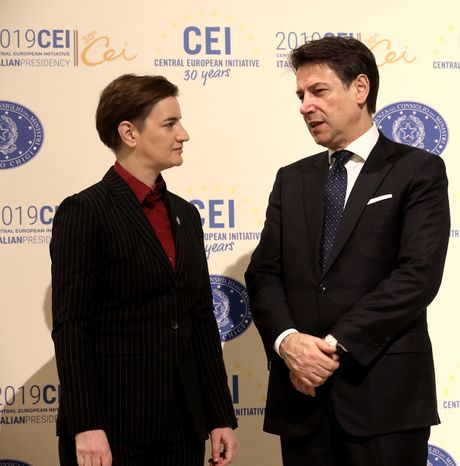 "He said one sentence that made me unable to hide some kind of joy and pleasure. He said that Italy would be a good and sincere ambassador of Serbia on its European path," Vucic told reporters after meeting with Conte.
Prime Minister Brnabic spoke with Italian Minister of European Affairs Vincenzo Amendola a few days ago in Belgrade, pointing out that Italy's strong support for Serbia's European path and the stability of the region is one of the pillars of the successful bilateral cooperation between the two countries.
"Relations between Serbia and Italy are based on firm economic cooperation," said Ana Brnabic on that occasion and stressed that Italy is one of the most important economic partners and most important foreign investors in Serbia.
Serbia and Italy mark a significant anniversary this year - 140 years since they established diplomatic relations.
Brnabic also met with Moldovan Prime Minister Ion Chicu while in Rome.
(Telegraf.rs/Tanjug)
Pošaljite nam Vaše snimke, fotografije i priče na broj telefona +381 64 8939257 (WhatsApp / Viber / Telegram).