Brnabic elected as member of SNS party presidency: Vucic confirms this after SNS meeting
After the meeting, SNS leader Aleksandar Vucic said that parliamentary elections were discussed, as well as current events in the country and the region
The main committee of the Serbian Progressive Party, SNS, met in Belgrade on Sunday with the parliamentary elections as well as current developments in the country and the region on the agenda.
Among the first to arrive was Serbian Prime Minister Ana Brnabic, followed by Interior Minister Nebojsa Stefanovic. Mayor of Novi Sad Milos Vucevic, Minister of Transport, Construction and Infrastructure Zorana Mihajlovic and Minister of Finance Sinisa Mali arrived next.
After the meeting, SNS leader Aleksandar Vucic announced that Ana Brnabic had been elected as a member of the party's Presidency during the session of the SNS main committee, by acclamation of all members.
On elections
"As for the elections, the energy of these young people will contribute to the end result," he said, announcing that a session of the SNS Assembly will be held on Vidovdan (June 28) when new party leadership will be chosen from top to bottom, from the president to members of the main committee.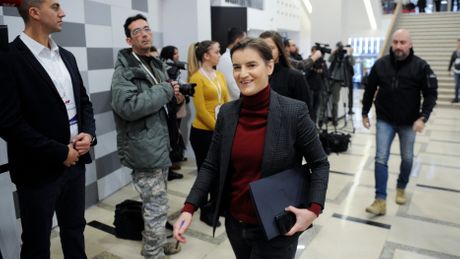 "New leadership, from June 2020," he said, adding that there were no conflicts in the party and that he believes new people could bring new energy.
As for himself, Vucic said he would not run again for the party leadership, and that he was sure his successor would be able to run the party properly.
"Once the elections are over, it will take 45 days to carry out the procedure for appointing delegates to the assembly. So the SNS will have a whole new leadership starting in June," Vucic emphasized.
Vucic stressed that the party's decision was such, because they wanted to go into the elections without the fiery attitudes brought on by different views within the party, and then, after the elections, there would be an opportunity for the best to emerge in good competition.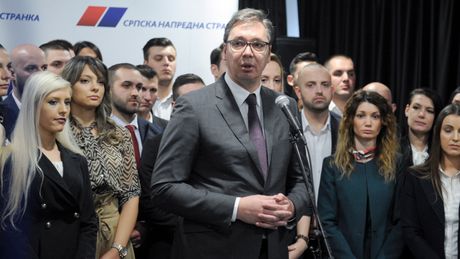 He said he believed that the new SNS leadership would be able to cope with the challenges ahead, the difficult things that Serbia will face during this period, especially because Serbia today has different standards and must move much faster.
"Reforms have been implemented but additional acceleration, effort and work is needed and I believe that new people can bring that energy and demostrate it," said Vucic.
He said it was very important for the party to hold its assembly on Vidovdan, because it showed that there was a need to give space to incoming people who have energy, enthusiasm, who are untarnished.
"They simply want to defeat those who are a little tired, who want to create their own clans, to be big bosses, and there are such people both at the local and at other levels. I am convinced that I will have time to look at everything and suggest the best people from the party president to the members of the main committee," said Vucic.
On Kosovo and Metohija
I hope that Pristina will not follow the example of Podgorica, Vucic said, asked whether the same scenario as in Montenegro could be expected in Kosovo, regarding the adoption of the Law on Freedom of Religion.
"I've heard such ideas and, like you, I follow it as a matter of my official duty. I see that they have already started talking about the Ghashis, about somebody connected to Decani, and others who are connected to our other churches," Vucic noted, and stressed: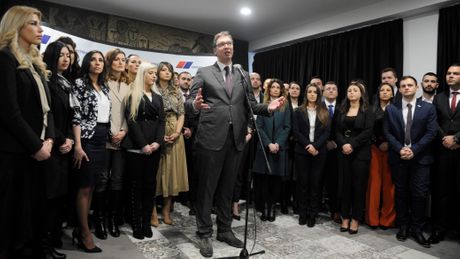 "I can't know, I don't want to be a bird of ill omen, I hope they won't follow this example and that they won't try to convince us that Decani, Gracanica, Bogorodica Ljeviska, Zociste or any of our holy places belong to Albanian cultural heritage."
Vucic said that they would try to say that it belongs to Kosovo's cultural heritage, for which, he recalled, they at one point received the support of a part of the international community.
Which would mean that Kosovo's cultural heritage is not Serbia's cultural heritage, Vucic added.
"But, all these tricks... I believe that we will have the strength to fight in a rational, smart way and through peaceful means, through diplomatic channels and to preserve our holy places," Vucic said.
On events in Montenegro
Vucic said yesterday that the SNS main committee supported the Serb people and the Serbian Orthodox Church (SPC) in Montenegro.
"Without wanting to interfere in internal affairs and not wanting to spoil relations with Montenegro, we want to be responsible, but we are with the Serb people," he said.
New faces in the party
The president of Serbia and the SNS leder, Aleksandar Vucic, said earlier that elections are always difficult for those who want to win and act responsibly.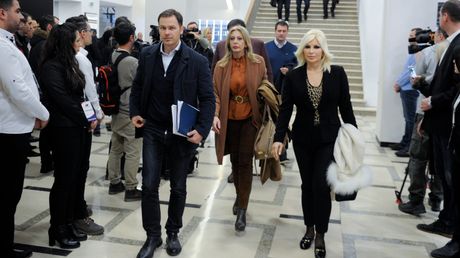 He did not want to answer questions about possible changes in the party. He noted that the session of SNS was closed to the public and that he could not say anything in advance.
Earlier, he announced that the party would go for new, young people. It was reported before the session that 70 young Progressives would be presented - those who attended the party academy and heard lectures and experiences of senior colleagues in office in the previous period would, from ministers, MPs, all the way to the president of the state and the SNS Aleksandar Vucic.
(Telegraf.rs/Tanjug)
Pošaljite nam Vaše snimke, fotografije i priče na broj telefona +381 64 8939257 (WhatsApp / Viber / Telegram).