Search for "Barber of Malca" ongoing for half a month in every inch in Nis, Svrljig and Knjazevac
The girl is still in the hospital where she is recovering; it's not yet known when she will be released home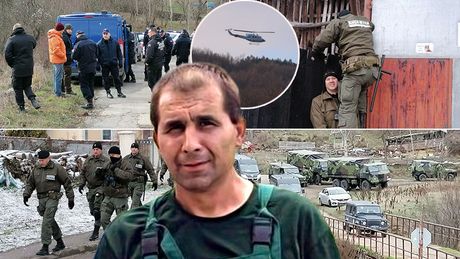 Foto: Telegraf/D.K., Facebook
The police search for Ninoslav Jovanovic, aka "the Barber of Malca," who abducted and abused Monika Karimanovic (12) from Suvi Dol near Nis, continues today, for the 15th day.
Fortunately, Monika, who was abducted on December 20, 2019, has been found in the meantime. She was rescued on December 29, 2019.
RTS reports that police and Gendarmerie searching for Monika's kidnapper are looking in the areas around Nis, Knjazevac and Svrljig.
In addition to homes, the police are also entering buses and asking citizens if they had seen anything suspicious. Also, Police Director Vladimir Rebic appealed on parents not to let children go anywhere unattended, especially girls. Jovanovic intercepted Monika as she was walking to school around 7.15 on the morning of December 20. He told her that he worked as a janitor at the school but didn't know how to get there, and asked her to get in his car and show him the way.
From that moment until Sunday, December 29, there was no sign of Monika. She was found by chance in the village of Pasjaca, when Nis resident Emil Zivic and his son came to the village where they have a house. It turned out that the Barber of Malca - who immediately ran away by jumping out the window, and Monika were there. The girl was immediately taken to the the Clinical Center in Nis, where she still remains, and where she is slowly recovering. It's not yet known when she will be released home.
Jovanovic, who is a repeat sexual offender, is still on the run.
He was arrested three times in the past, and convicted of rape on two occasions. The first time he received 10 years in prison for a rape committed in the 1990s, and the second time to 15 years in 2006 for raping a 12-year-old girl, previously cutting off her hair - but was released after 12 years. Jovanovic was last released from custody in March this year, after serving five months by the verdict of the Belgrade Higher Court for sexually harassing an underage girl on Facebook.
(Telegraf.rs/RTS)