SPC calls for peace in Montenegro: Church should not be used for political and ideological interests
In a statement after the informal meeting reportedly held last night at the Temple of St. Djordje (George) in Podgorica, the Episcopal Council added that dignified and prayerful processions are the best form of resistance to the injustice that is happening to the Church at the hands of Montenegrin authorities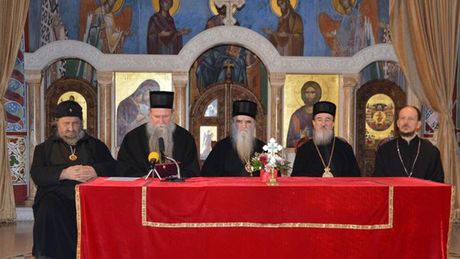 Foto: mitropolija.com
The Episcopal Council of the Serbian Orthodox Church (SPC) in Montenegro says that "strong Christian and national unity  in Montenegro in the spirit of St. Sava" shows a firm determination of the Church and its believers not to allow anyone to instrumentalize the Church for any political or ideological interests.
In a statement after an informal meeting reportedly held last night at the Temple of St. Djordje (George) in Podgorica, the Episcopal Council added that dignified and prayerful processions are the best form of resistance to the injustice that is happening to the Church at the hands of Montenegrin authorities.
"We in advance distance ourselves from any possible incidents that anyone might stage these days around Christmas Eve and Christmas. The Church is neither calling for, nor will call for violence of any kind, but will show determination in the defense of its shrines and of eternal human dignity," a statement said, pointing out that such announcements (of violence) exist, with the aim of "compromising the peaceful Christian resistance across Montenegro."
The Council attributes the responsibility for a flare-up in divisions, above all to those who, as stated, without accepting genuine dialogue, enacted a "hideous, anti-constitutional and discriminatory non-law on the seizure of temples and Church property of the Serbian Orthodox Church" - i.e., the Montenegrin Law on Religious Freedom.
The statement added that any announcements spread using the media or social networks on behalf of the Episcopal Council or individual bishops, which, they say, are too many these days to refute one by one, are not credible and in no way represent the views of the Church - unless they are also posted on the official websites of SPC dioceses.
Some media reported today that the SPC Episcopal Council was allegedly against a planned private visit of Serbian President Aleksandar Vucic to the north of Montenegro on Christmas Eve (January 6), and would send a message to this effect tonight, after the council's meeting.
As Tanjug learned from sources close to the Church, there is information about a possible Episcopal Council meeting tonight - but this has not been confirmed, nor the message that is speculated about.
The Episcopal Council of the Serbian Orthodox Church in Montenegro consists of the Metropolitan of Montenegro-Littoral Amfilohije, Bishop of Budimlja-Niksic Joanikije, Bishop of Milesevo Atanasije, Bishop of Zahumlje-Herzegovina Dimitrije, Bishop of Dioklija Metodije, and retired bishop of Zahumlje-Herzegovina Atanasije.
(Telegraf.rs/Tanjug)