Policeman who caught "Barber of Malca": He lay down on the ground, didn't say a word
Sladjan Radosavljevic, who has 24 years of police service, admits that looking for Jovanovic was the most challenging task of his career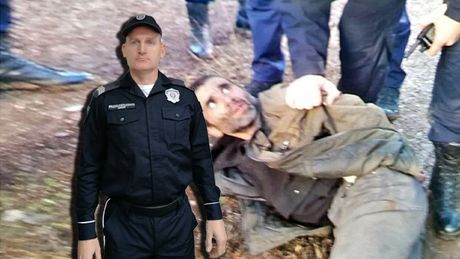 Foto: Telegraf
Sladjan Radosavljevic, a police officer from the Razanj police station and his Leskovac colleagues Vladimir Spasic and Nikola Sinadinovic were the first to, on January 5, reach Ninoslav Jovanovic, the infamous"Barber of Malca." The fugitive was hiding in the Malca cemetery where his was arrested.
This ended the 17-day manhunt for this hardened criminal who kidnapped 12-year-old Monika Karimanovic on December 20, for which he has been accused of abduction and rape - a charge that could land him in prison for life.
Policeman Radosavljevic, who has served for 24 years, admits that looking for Jovanovic was the most challenging task of his career and that he felt great relief after the serial rapist was arrested. He didn't notice us at all
"On that day, myself and two of my colleagues from Leskovac were tasked with starting the search from the Malca Loop, from the area where Jovanovic's dugout was found, towards the cemetery, because he was spotted fleeing in that direction after being discovered in the backyard of a home in Malca. We were slowly approaching the cemetery when we saw him... He was hiding behind a tombstone and stared at the highway towards Knjazevac where the police were. He didn't notice us at all because we were approaching him from the right flank. When we were about ten meters away, we commanded, 'Stop, police, lie down on the ground, hands up!' He was petrified, lay on his stomach, did not say a word" says Radosavljevic.
The suspect also offered no resistance during the arrest.
He came to his grandmother's grave
"We immediately informed our superiors that we had a person in our custody of unkempt appearance who matched the photos of the man we were looking for. I asked him for his name, and he replied, 'I'm Ninoslav Jovanovic, I came to my grandmother's grave'. I searched him, no weapons were found on him. When we asked him why he didn't surrender, he said he was afraid of the police. It all took two to three minutes," says the officer. We hugged, we were happy
He adds that he was glad it all ended that day.
"When the other colleagues arrived, they congratulated us, we hugged each other, we were happy for the girl's family and for all the other citizens who no longer had to fear for their safety. Personally, I was very happy for my colleague Vladimir Spasic, who has been in the police force for two years and for whom this was the first operation of its kind," concludes Radosavljevic.
On Monday night, on the proposal of the High Public Prosecutor's Office, a judge of the Nis Higher Court remanded Jovanovic in custody for up to 30 days.
Video:

Barber of Malber brought to a police station in Nis
Video:

Exhausted, barely walking: This is how Barber of Malca entered the police station
(D.K.)