Social media abuzz with news of arrest of Senta's son, inspector who uncovered Jovanjica; MUP reacts
Senta's son was reportedly framed with an affair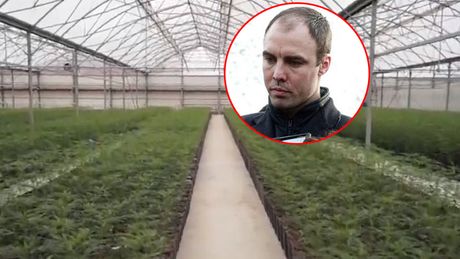 Foto: Telegraf TV/MUP
Information has been making rounds on social media that Slobodan Milenkovic, head of the 4th Police Department in Belgrade who led the Jovanjica operation, got arrested three days ago for mediating in drug trafficking.
Milenkovic led the Jovanjica operation and closed Europe's largest marijuana plantation... As a "reward", it is said, he has been framed with an affair.
However, the Ministry of Internal Affairs (MUP) tells Telegraf.rs that this information is incorrect.
"It is absolutely incorrect that Slobodan Milenkovic, head of the 4th Police Department of the Police Directorate for the City of Belgrade, has been arrested," Telegraf.rs was told by the Ministry of Internal Affairs. Inspector Slobodan Milenkovic, the son of late police general Senta Milenkovic, uncovered and arrested Predrag Koluvija, the owner of the Jovanjica farm in Stara Pazova, where four tons of marijuana were seized.
Milenkovic was traveling in a car with a colleague in November when a white Audi A8 with police blinkers sped past them. The experienced inspector knew that there were no such police cars, so he called in the traffic police and told them to stop the Audi.
The traffic police did that a little down the road, and shortly after Milenkovic and his colleague arrived.
"Koluvija was in the front passenger seat and, when asked to show his ID, confidently showed a police badge, but this was immediately suspicious to Milenkovic. Checks were made and it was discovered that there was no such badge in the MUP system. A search was then carried out of Koluvija's farm. To the surprise of the police, they discovered endless fields of Indian hemp, better known as marijuana," our source said. For the following ten days, strong police forces secured the farm while officers and forensics made an inventory of every Indian hemp plant and every gram of dried marijuana, ready for sale. It was determined that there were a total of 65,581 plants and 649.4 kilograms of dried marijuana in the greenhouses and warehouses.
Koluvija was arrested and place in custody for 30 days, which was extended for another month on December 17.
Slobodan Milenkovic's father, Senta Milenkovic, was the head of security for Slobodan Milosevic.
(LJ.R.)