Vucic tours MEI TA factory: We need hard workers who will be increasingly better paid
MEI TA Europe is a company that manufactures automotive, engine, and general industrial parts
Serbian President Aleksandar Vucic today visited the MEI TA Europe plant in Baric, near Obrenovac, a company that manufactures automotive, engine, and general industrial parts.
Vucic visited the factory accompanied by Mei Ta Group president Ben Chen, Chinese Ambassador to Serbia Chen Bo, the mayor of Obrenovac, Miroslav Cuckovic, Minister of Education Mladen Sarcevic, Belgrade Mayor Zoran Radojicic, and Deputy Mayor Goran Vesic.
Vucic attended the training of new employees, visited the foundry and the plant for machine processing, after which he spoke with students of the Technical School in Obrenovac.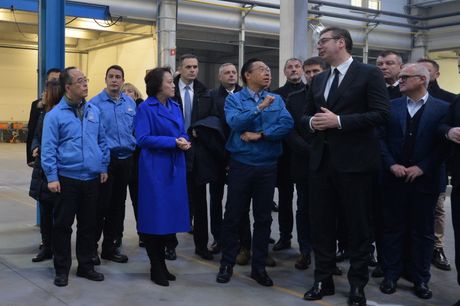 He told them that one of the world's greatest leaders, Shimon Peres, once told him that only those countries where workers learn and students work will have a future, because otherwise they won't be able to handle the market and stay competitive, and won't be able to survive.
"I am especially happy for the opportunity to have dual education despite countless instances of resistance. I am happy that there is such a strong and powerful factory in Obrenovac," the president said.
He said he was happy to be in this factory, and that five years ago, when that investment was talked about, everyone was skeptical.
"3,046 workers are in this factory today. I am especially happy that the factory employs people from Cukarica, Ub, Lakovac. Thank you, Mr. Ben Chen, for making a joke that if I become president, you would build a factory here, make the same kind of joke once again," he told workers and added that Serbia needs hard workers who would be paid more and more.
The first factory opened in April 2017
The first factory in Baric near Obrenovac was opened in April 2017, and the second in June of last year.
MEI TA invested 150 million euros in the two factories in Obrenovac, employing 3,050 people. More workers are needed and that is why the company constantly organizes training for new workers.
The factory cooperates with the municipalities of Obranovac, Lazarevac, Lajkovac, and Valjevo.
(Telegraf.rs/Tanjug)