German teacher in Valjevo ironing clothes while students fiddle with their phones: She explains it
Instead of explaining the situation to us, the professor asked us for an explanation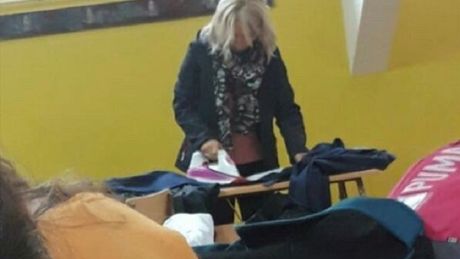 Foto: Privatna arhiva
Was ist das? Eisen für Kleidung. Ich bügle. Du bügelst. Er/Sie/es bügelt. "What is this? This is an iron. I iron, you iron, he irons..."
It's hard to write, let alone pronounce. However, students of the Valjevo Technical School would have to sing this, since the professor practically demonstrated how to do laundry in class. Because, as some of them claim, everything happened supposedly in class, and "they were allowed to fiddle with their phones."
The teacher was photographed, after which the unusual picture found its way to our newsroom. Confused by the scene, we called the school principal and he referred us to the teacher.
She explained to us that it was not true this photo had been taken in class. The ironing didn't happen recently, either, she said, but in October, in preparation for the exhibition "Famous Women of Serbia."
"I was preparing an exhibition for School Day. I brought the dresses from the depot, washed them at home and ironed them here so they wouldn't be wrinkled for the exhibition. The girls participating in the exhibition were with me and they took pictures of me. The exhibition was in early October, it's an old photo. We dedicated it (the exhibition) to famous women of Serbia. We are one of the best schools," the professor said.
School's best employee
It took us over an hour to obtain a reply - a logical explanation was given to us by the principal as well.
"She was preparing an exhibition, ironing a dress or a curtain, she's the school's best employee. She has worked with both Austria and with Germany, you have to see what her cabinet looks like. The exhibition was held at the school in collaboration with the Austrian Cultural Center, on the occasion of the awarding of of the Nobel Prize in Literature," explained principal Branko Goloskokovic.
Why they took pictures of her
If what the teacher and the principal said was true, the question remains why would students take pictures while she was ironing for a joint project, and then share these pictures - since such photos without an explanation can only hurt the school and the teacher, but also themselves.
Video: Teacher gets furious over music in classroom, grabs a student and carries him outside
(M. B.)