Comtrade Group owner Veselin Jevrosimovic in Davos: Foreigners are interested in Serbian IT market
Jevrosimovic is the only businessman from Serbia who participated in the World Economic Forum in Davos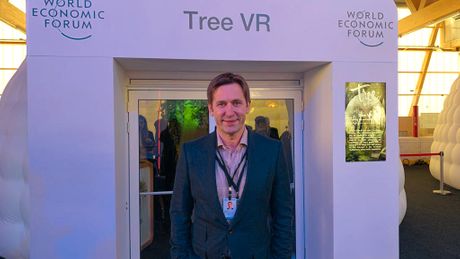 Foto: Telegraf
Veselin Jevrosimovic, president and owner of Comtrade Group and the only businessman from Serbia participating in the World Economic Forum (WEF) in Davos, told the daily Alo! in an interview about his first impressions from this year's forum, pointing out that foreigners are very interested in our IT market.
* What are your first impressions?
The very beginning of Davos was marked by major demonstrations in the city itself and surrounding towns, which are held every year, however, this year it was more pronounced than in previous years.
*How important is it to us, as a small country, to participate in a large gathering where all eyes are on the world's powerful people and countries?
This is a great recognition for Serbia, because you come to Davos by invitation, and there is room for only 2,000 of the most prominent politicians and businessmen from all over the world. The very presence of our president and prime minister in Davos for many years is a great recognition for our country as a serious political subject. * How important is Davos to Serbian businessmen?
For the Serbian economy and our businessmen, WEF is very important, especially because it deals with things that are of great importance for the global economy, and therefore our economy. I have been a member of WEF for over 12 years and every year I visit multiple forums they organize around the world. Unfortunately, I am the only one from our country from the business community.
*Who have you met so far? What did you discuss?
I already know in advance who is coming to the upcoming forums, since all participants are networked into one large network via the app, so they can pre-schedule and arrange the meetings they want to have. The significance of the forum is that you use that network anywhere in the world. This year, I'm meeting mostly with blockchain companies, firms closely related to AI (artificial intelligence) development, as well as cheminformatics.
* What are the questions you are usually asked when it comes to both Serbia and business in our country?
Usually everyone is interested in our IT market, which has seen big growth in recent years.
* The new Belgrade-Pristina air route is the most current topic these days. How much will this affect the Serbian economy?
Establishing a local Belgrade-Pristina route is very important for economic development of not only our country but the entire region. Any infrastructure connection opens up new horizons and opportunities.
* Climate change is one of the key topics. Can the planet be saved?
As far as climate change is concerned, we will not solve the problem until all of us have an awareness that we all, as well as our children, are becoming the victim of climate change and that we all must approach that seriously.
(Telegraf.rs)