Serbia and Russia to establish institute for preservation of historical memory of anti-fascist fight
The 5th Session of the Commission for Cooperation between the National Assembly of the Republic of Serbia and the State Duma of the Federal Assembly of the Russian Federation has been held in Moscow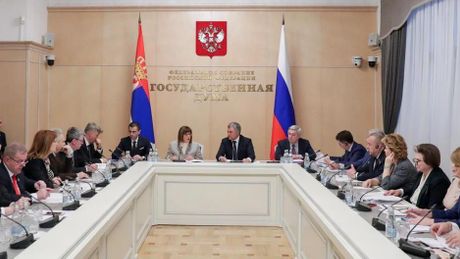 Foto: Skupština Srbije
A delegation of the National Assembly of Serbia, led by President Maja Gojkovic, participated in the 5th session of the Commission for Cooperation between the National Assembly of Serbia and the State Duma of the Federal Assembly of the Russian Federation.
At a meeting in Moscow, the talks of the Serbian side on important topics such as realization of bilateral cooperation between the two countries in areas such as energy and innovative technologies, and strengthening international and regional security have also been attended by Djordje Milicevic, Deputy Assembly President, as well as MPs Zarko Obradovic, Dragomir J. Karic, Dubravka Filipovska and Sandra Bozic. On the Russian side, Valentina Tereshkova, the first woman in space, also took part in the work of the Commission.
Ahead of the commemoration of the 75th anniversary of victory over fascism in the Second World War particular attention has been given to the awakening of Nazism, one of humanity's greatest scourges, and the attempt by neo-Nazi groups to revise history in order to diminish or completely negate the Nazi crimes.
During the Commission's meeting, State Duma President Vyacheslav Volodin suggested that an institute for the preservation of the historical memory be formed as soon as possible in order to jointly combat historical revisionism regarding the role of Soviet and Serbian soldiers in fighting and winning the Second World War.
National Assembly Speaker Maja Gojkovic agreed with the proposal because, as she said, historical revisionism threatens not only the memory but also the survival of peoples. She stressed that Serbia is well aware of the heroism of the Soviet soldiers who fought side by side with our units to liberate our country from occupation. She added that support for the initiative will be sought from Russian and Serbian presidents Vladimir Putin and Aleksandar Vucic.
Djordje Milicevic, Vice-President of the Assembly and Deputy Co-Chair of the Commission, stressed that the proposal to establish the institute is of huge importance for Serbia and the Serb people. He emphasized that the task is to safeguard our common heritage and that he will propose to the government of Serbia to include science in the effort to preserve the real truth about the creation of a free Europe.
In his address, MP Dragomir J. Karic stressed that Serbia is committed to protecting the historical memory, the achievements of the anti-fascist struggle and the memory of the suffering inflicted by the Nazi terror. He recalled the sacrifices made by the Serbs in the Second World War and emphasized that no one should ever dare to, and that nobody can dispute that our units, along with Red Army soldiers, expelled the Nazis from the Balkans and restored freedom to the people of this region.
(Telegraf.rs)