Unheard-of robbery in Novi Pazar: Man smashes shop window with big tree branch, jumps inside
According to Glas Pazara, two such robberies occurred in the night between Tuesday and Wednesday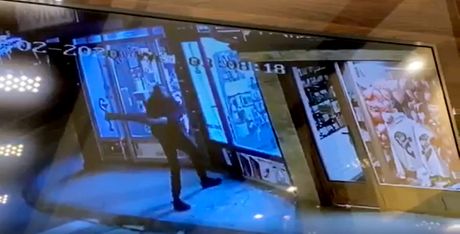 A thief in Novi Pazar robbed a cellphone store by breaking the window with a think piece of wood and then casually walking into the store to collect his loot.
At one point, a car drives down the street that the broken window faces, but goes around the shards of glass and the wood and drives away, while the robber is still in the store.
According to Glas Pazara, two such robberies occurred in the night between Tuesday and Wednesday.
"Members of the Interior Ministry in Novi Pazar arrested A.M., 25, from Novi Pazar, on suspicion that he committed two serious thefts. It is suspected that he broke into two cellphone stores during the night between February 18 and February 19 this year, from which he stole several cell phones, watches and other equipment," according to the Interior Ministry, MUP.
The police soon found the man along with the stolen items that have been returned to their owners.
"On the order of the Basic Public Prosecutor's Office in Novi Pazar the suspect has been detained for up to 48 hours, after which he will be brought before the competent prosecutor along with a criminal complaint," the Ministry said.
Video:
Attempted robbery of an exchange office in Omoljica made everyone laugh: He brought an ax, too, but...
(M.B.)
Pošaljite nam Vaše snimke, fotografije i priče na broj telefona +381 64 8939257 (WhatsApp / Viber / Telegram).