Support healthcare workers in Serbia: Get out on your balconies at 8 pm and applaud them
They deserve applause not only each evening, but all day long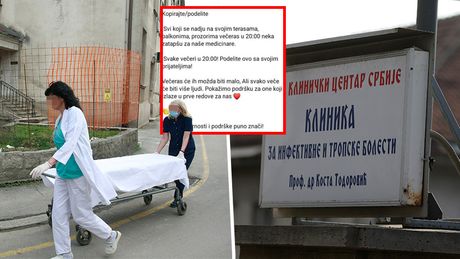 Citizens' awareness of the situation of medical workers in Serbia is not absent today in a time of coronavirus in our country.
Speaking to this is the fact that a message has been circulating on social networks urging everyone to, starting tonight at 8 pm and every night going forward, show their appreciation for what medical workers are doing for us by applauding them. In addition to treating those infected with the virus, they are at greatest risk of contracting this new scourge which has shackled the world, and made 83 people in our country ill.
In this message, people are being urged to go out on their terraces, balconies and windows and applaud our healthcare professionals.
"Let everyone who finds themselves on their terraces, balconies, windows at 8 pm tonight applaud our medical workers. Every evening at 8 pm. Few may do it tonight, but there will be more people every night. Let's show our support for those who are on the front line for us. A little solidarity and support means a lot," the message said, with its authors asking that it be shared.
And - do this.
So will we.
The Telegraf.rs newsroom is even now applauding our doctors, nurses, technicians, epidemiologists, infectologists...
Video:
Follow the guidelines of the Ministry of Health and reduce the risk of infection with coronavirus
(Telegraf.rs)
Pošaljite nam Vaše snimke, fotografije i priče na broj telefona +381 64 8939257 (WhatsApp / Viber / Telegram).