"EU doing everything to help Serbia": Vucic talks with Borrell about coronavirus situation
Borrell said the European Union is doing everything it can to help Serbia, especially in procuring medical equipment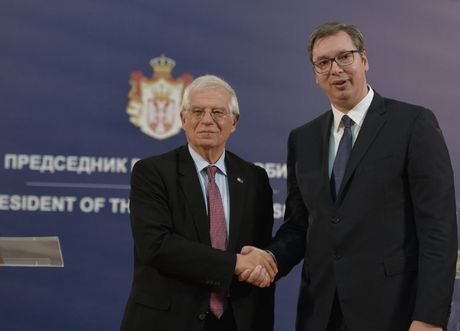 President Aleksandar Vucic spoke today with High Representative of the EU for Foreign Affairs and Security Policy Josep Borrell, primarily about the measures taken to combat the spread of coronavirus and the infectious disease COVID-19.
Borrell said the European Union is doing everything it can to help Serbia, especially in procuring medical equipment, the president's Media Office announced.
He informed the Serbian president that European institutions are preparing the possibility for countries in the process of accession negotiations to have access to the EU Solidarity Fund, which is now available in the event of public health crises, not just natural disasters, as was the case earlier.
Vucic welcomed the decision of the European Commission to form emergency supplies of medical equipment and materials worth 50 million euros, which will also be made available to Serbia through the Civil Protection Mechanism.
The two interlocutors agreed that cooperation and coordination of measures between the Western Balkans and the European Union are needed to combat the spread of coronavirus.
Vucic told Borrell that Serbia is counting on EU assistance in the fight against the disease, as well as in eliminating its economic consequences.
According to a statement, Borrell and Vucic also discussed how to help Serbia economically after the coronavirus crisis.
Vucic said Serbia hopes to have the same treatment as member-states and access to various EU funds, which would help the Serbian economy recover.
They discussed the acquisition of medical equipment and supplies to combat COVID-19.
President Vucic and EU diplomacy chief Borrell also discussed the regional situation and relations between Belgrade and Pristina.
(Telegraf.rs/Tanjug)