Djokovic's big battle for Serbia "from the shadows": Swiss say he wants to end Kosovo's independence
The Serbian tennis player knows where he comes from and is a great nationalist and patriot, so his interest in Kosovo and Metohija is no surprise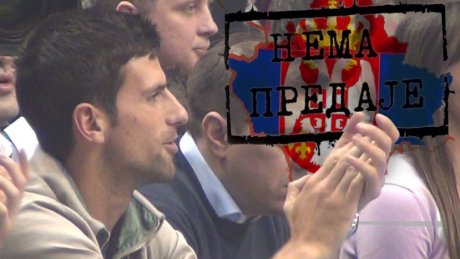 Foto: Telegraf
Minister of Foreign Affairs Ivica Dacic pointed out recently that Serbia will open its consulate in Monaco soon and recalled that the honorary consul of our country in there is the uncle of Novak Djokovic, Goran Djokovic.
Dacic said that Serbia should "use its brands" - like this Serbian tennis star - as much as possible in its diplomacy.
"Novak always asked what he could do, he rejoiced each withdrawal of Kosovo recognitions. Many world statesmen asked me about him, and I would ask him to send them an autographed tennis ball or racket," said Dacic.
As a reminder - the Serbian tennis  national squadcelebrated winning the ATP Cup in Australia in January in boisterous fashion.
Novak Djokovic filmed a part of the atmosphere in the locker room, where iconic Serbian songs such a "Vidovdan" and others could be heard, as Dusan Lajovic, who was wearing equipment reminiscent of the Bulgarian flag due to the color scheme, was being teased for it.
Video:

Who can steal Kosovo from my soul? Nole started singing, Vajda took selfie flashing three-finger Serbian salute!
After that, the ambassador of the so-called state of Kosovo in Bulgaria, Edon Cana, attacked on Twitter one of the best tennis players ever, Novak Djokovic.
What provoked the Albanian was the celebration of Serbian tennis players after winning the ATP Cup, and the singing of famous Serbian songs.
Novak sang "Vidovdan" before, and it's well known that he is proud of his Kosovo roots.
Video:

Novak Djokovic sings Vidovdan during a Red Star game
Novak's father Srdjan recently said in an interview for Telegraf that Kosovo is holy land for Serbs, just as Jerusalem is for Jews, and that we must never give up Kosovo because then we wold give up our identity and history, as well as that Kosovo will always be Serbian.
Novak himself is leading a battle from the shadows and is contributing to the lobbying and diplomatic efforts. His mother Dijana recently revealed that he was the target of Albanian terrorists, after he opposed the unilateral proclamation of independence of Kosovo in 2008, so he was at the time guarded by special forces during a big tournament because his life could have been in danger.
Video:

Testimony of Srdjan Djokovic: Novak was jumping out of bed because of NATO bombs; Kosovo as Serbian Jerusalem
Swiss daily Blick has dealt with this topic and pointed out in a headline that Novak wants to end the independence of Kosovo, referring in the article to Ivica Dacic's statement about Novak's role in the diplomatic struggle.
No doubt, Novak's move will meet with the sympathy of the people in Serbia, because he has never been ashamed of his Serbian origin and has always been proudly spreading the glory of Serbia around the world.
(Telegraf.rs)