Novak Djokovic's coach Goran Ivanisevic also infected with coronavirus
More bad news from Croatia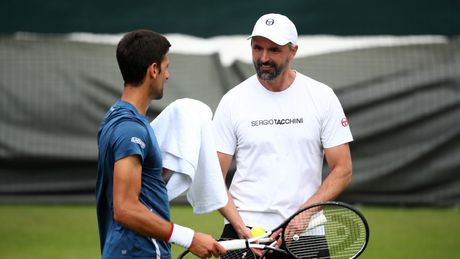 Foto: Guliver/Clive Brunskill/Getty Images
Novak Djokovic's coach Goran Ivanisevic is infected with coronavirus.
The director of the Adria Tour segment in Zadar and the coach of the world's best tennis player is positive for coronavirus, which he has confirmed on social media.
Ivanisevic is self-isolating with mild symptoms, tolerates the virus and feels well. He is a new case to emerge after Borna Coric, Viktor Troicki, Marco Panichi (Djokovic's fitness coach), Grigor Dimitrov and Christian Groh (the Bulgarian player's coach).
It is also known that Novak's parents, uncle Srdjan and brother Djordje, who was tested in Croatia, received negative results.
Otherwise, Ivanisevic got tested recently in Zadar and the results were negative.
"Unfortunately, after two negative tests in the last 10 days, I have just found out that I tested positive for Covid-19. I feel good and don't have any symptoms. I would like to inform everyone who has been in contact with me that tested positive and ask them to take extra good care of themselves and their loved ones. I will continue to self-isolate as I have been doing already. I wish everyone who got infected a speedy recovery."
Video:
Liverpool fans party and celebrate: The whole world came down on Novak - now what about this?!
(Telegraf.rs)