Loncar and Brnabic talk about coronavirus victims, doctors and equipment in Novi Pazar
He announced that the capacities of the hospital in Novi Pazar will be expanded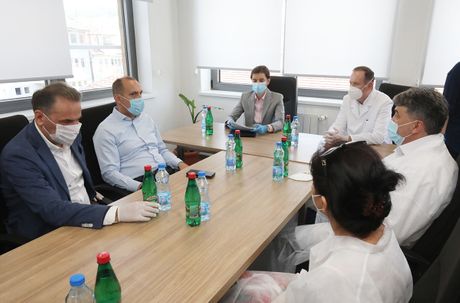 Minister of Health Zlatibor Loncar said today in Novi Pazar that the hospital in that city has enough medical equipment and healthcare workers to cope with the increased number of coronavirus patients, and he especially pointed out - reacting to boos and heckling from a crowd that gathered in front of the hospital - that they "know not what they do" and that transferring healthcare to the political court will not help in resolving the situation.
Loncar, who visited Novi Pazar with Prime Minister Ana Brnabic because of the current situation with coronavirus and the increased number of infected people, told the citizens that he responsibly claims that hospital has enough supplies: drugs, materials, protective equipment.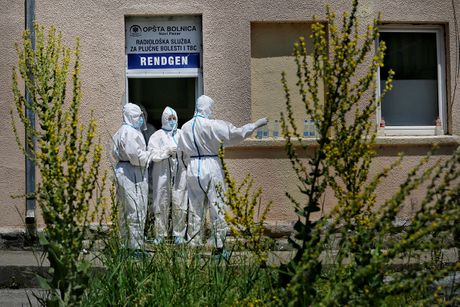 "Not only is there enough, but we have also brought additional quantities. At the moment, the hospital in Novi Pazar is better equipped with these additional quantities than any hospital in Serbia," said Loncar and pointed out that more protective equipment, an ultrasound device, a gastroscope and other items have been brought there.
The system has been established and the situation is under control, the minister claims, but he added that this doesn't seem to suite some people.
He announced that the capacities of the hospital in Novi Pazar will be expanded and that, if necessary, the entire hospital will be turned into a Covid hospital.
He called on all doctors and nurses to contact the management of the hospital in Novi Pazar by 4 pm in order to be given a job, and that the same applies to Tutin, so that everyone who meets the conditions will get either a full time or part-time job.
Brnabic: There is equipment, but, unfortunately, there's also misinformation
Prime Minister Ana Brnabic said today that it was disinformation was that there was no equipment and medicines in Novi Pazar, adding that on the contrary, the General Hospital in that city is the best equipped in Serbia, proportionate to the population it serves, and made an appeal not to use coronavirus to politicize issues.
"I am glad that the people who came to express their protest and disagreement are wearing masks. That's the right message, just like it is a message of democracy in society that we can all come and say what has been done and what we will do in addition, and that people who do not agree in any way with what has been done here can say what they disagree with," said Brnabic.
The prime minister thanked all healthcare workers, primarily from Novi Pazar, who, she says, did their best in the fight against coronavirus, as well as healthcare workers from Kragujevac, Kraljevo, those working at the Batut institute of public health...
"The basic problems at the beginning were that infected people reported late, that we had an extremely fast surge in the number of cases in a few days and that we did not have a good separation of Covid and non-Covid parts (of the hospital), and there were people who visited others in the 'red zones'," said Brnabic.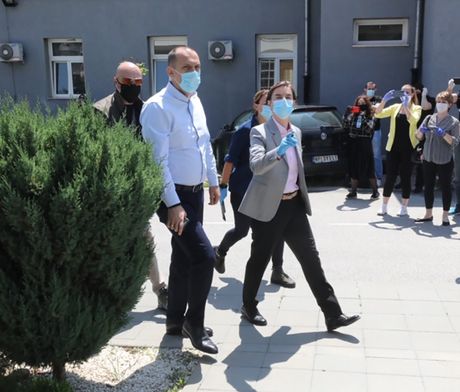 She stressed that it was disinformation that there is not enough equipment and that the ventilators, delivered by President Aleksandar Vucic, allegedly are not functional, as well as that there are no drugs or vitamins, and that people needed get what they need themselves.
"It's not true, the equipment was always there. The General Hospital in Novi Pazar, relative to the number of inhabitants, is certainly the best equipped General and Covid hospital in the whole of Serbia," said Brnabic.
She stated that she and her associates brought additional equipment today, discussed what is still needed, and that there will certainly be an effort to employ more nurses and technicians, along with providing two to three new ambulances to better connect Tutin and Novi Pazar.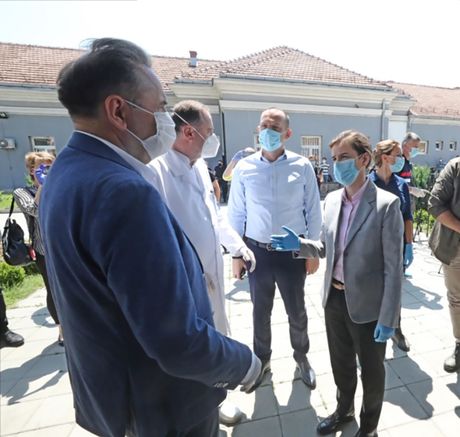 "It is certainly legitimate for some people to use this for political fighting and confrontation. I think that coronavirus is challenging, difficult and complex enough, not only for Serbia, but for the whole world and that we don't need fake news, disinformation and politicization, instead the priority should be to support the healthcare system, workers and patients to overcome the situation," said Brnabic.
She added that coronavirus will stay with us, with the whole world, until a vaccine is found.
"Let's learn the lesson, put aside personal sympathy or dislike and work together," the prime minister said.
(Telegraf.rs/Tanjug)