Paparazzi photograph Djokovic in Marbella: Barefoot, wearing a wooden cross, and an unusual mask
The world's best tennis player is preparing for the US Open, even though he has not yet confirmed his participation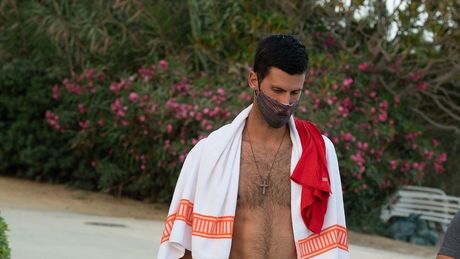 Foto: Profimedia
The best tennis player in the world, Novak Djokovic, is preparing to continue the season, while it is still uncertain whether he will play at the US Open. Novak has not confirmed his participation, but he is preparing to be fit if he decides to play in New York.
He is currently preparing in Marbella, where he was photographed by the paparazzi while out jogging. Novak did not wear a mask during the run, but he later put one on, and the photographers who followed in his footsteps took an unusual photo.
Novak took off his t-shirt, showing that he was wearing a wooden cross on his chest, which he wears around his neck as an amulet; he had an unusual cloth mask on his face, and also took off his sneakers to walk barefoot.
See the photos taken in Marbella:
Video:

Srdjan and Novak train with logs on a mountain in Bosnia
(Telegraf.rs)