Dr. Kisic: Tourists have 20 times higher chance getting coronavirus in Montenegro than in Serbia
Darija Kisic Tepavcevic explained in practical terms the situation in the region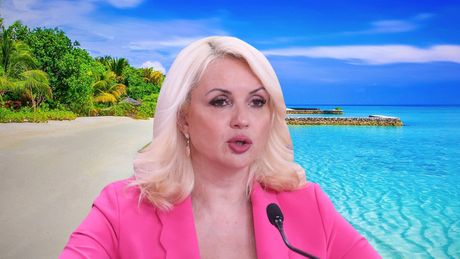 Dr. Darija Kisic Tepavcevic spoke for the "Novo Jutro" morning show today about tourists, the declining trend in the number of new coronavirus cases in Serbia, and supposed penalties for those returning from abroad.
"Scientifically, we have indicators of a drop in the number of infected people, but it is never linear, to have fewer and fewer cases each day. We have the usual occurrences in the epidemic during certain days, because it is a living organism and a phenomenon. The day when we had more than a hundred (new cases) was because of Sremcica, the health center for children with developmental disabilities, which contributed to the total number. At this moment, there's still not a significant number of people who got infected abroad. We don't have any new hotspots with intensive transmission, these are sporadic cases. This attracts our attention, the situation can very well change," she said.
According to her, the Crisis HQ pointed out to the risks and called on people to return from abroad. There are many questions, but the message is clear.
"Having a large number of infected Serbian tourists is a possibility, but if they behaved responsibly while traveling, wore masks and kept their distance, then the risk is reduced. Every gathering, celebration and concert is a risk factor. Staying in a tourist place is also a risk factor. But, when we looked at the previous period and the mechanism of infection in certain countries, in the previous two weeks, the Covid risk was 20 times higher in Montenegro and five times higher in Croatia than in Serbia. Unfortunately, no zone is completely safe, but you must understand that there is a 20 times higher chance of getting Covid (in Montenegro)," she said.
When asked by the presenter Jovana Joksimovic what will happen to those who fail to return to the country (by Friday), she explained it the following way.
"You know what, we can't look at it from the very end, from the aspect of fines or punishment, then it turns out that the Crisis HQ is made up of people who are only punishing and reducing the quality of life. The situation is completely reversed, we have an obligation and a duty to point out the risk to the citizens. Supervision is done over healthy people who are possible carriers of infection. They need to know how to take care, pay attention to the symptoms and know how to react. They will receive accurate guidelines," concluded Kisic Tepavcevic.
(Telegraf.rs)
Pošaljite nam Vaše snimke, fotografije i priče na broj telefona +381 64 8939257 (WhatsApp / Viber / Telegram).