"23,000 Serbians returned, half of them from Montenegro, 36 with symptoms. Forget about parties"
"Pay attention in transportation," said Loncar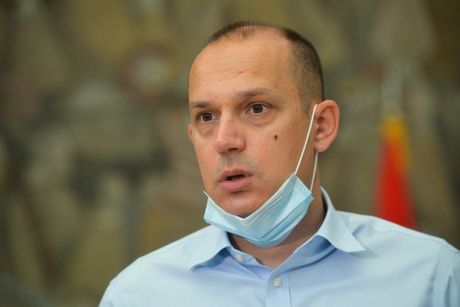 From Friday at 6 pm until today, 23,000 citizens have returned to Serbia from abroad, half of them arriving from Montenegro, said Minister of Health Zlatibor Loncar.
Loncar said that 36 people already had symptoms of coronavirus on the day of their return, Tanjug is reporting.
"If we didn't do supervision and if they had passed unnoticed, in a few days 36 would have turned into 360, and then in a few more days a much larger number," said Loncar after visiting construction works on the Clinical Center of Serbia (KSC).
The minister appealed on the citizens not to relax, to continue to respect the measures - wear masks, keep distance, and maintain hand hygiene.
"Forget about celebrations and parties, this is not a time for that. Pay attention in transportation," said Loncar and added that the epidemiological situation in Serbia is one of the best in the region.
As he says, currently 67 health workers are positive for coronavirus, two of whom are hospitalized.
Construction of new KCS building
Minister Loncar toured construction works on the new building of the Clinical Center of Serbia today. The minister said that the works will be completed in less than a year and that patients will start to be received then.
The new KCS will have 23 elevators, 30 operating rooms, four scanners, two magnetic resonance imaging devices, four angio rooms, and a state-of-the-art laboratory.
The Emergency Center, as well as parts of surgery, plastic surgery, endocrine surgery, neurology, hematology, gastroenterology, orthopedics, and cardiac surgery wards will be moved to the new building.
Each room will have two beds and a bathroom.
"The coronavirus epidemic did slow us down, but it did not stop the works. At one point, work was done at a lower capacity. We hope that coronavirus will not create a problem and that the number of workers on the construction site will no longer be decreasing," said Loncar after the visit.
The works on the KCS are done by Delta Engineering, and its executive director, Slavoljub Korcakovski says that the facility will have 86,000 square meters, of which 27,000 is newly built while 59,000 is reconstructed.
As he said, 1,200 kilometers of cables and 2,000 tons of steel will be installed in the buildings.
"Installation works are currently underway. The interior is being done. Construction-craft works have been completed," he said.
Reconstruction of the KCS and construction of a new tower began in 2018.
Video:
Loncar: After returning from the seaside, stay at home for a few days
(Telegraf.rs)
Pošaljite nam Vaše snimke, fotografije i priče na broj telefona +381 64 8939257 (WhatsApp / Viber / Telegram).