A memorandum of understanding signed to build Belgrade Metro; construction to start late this year
The memorandum was signed in the Palace of Serbia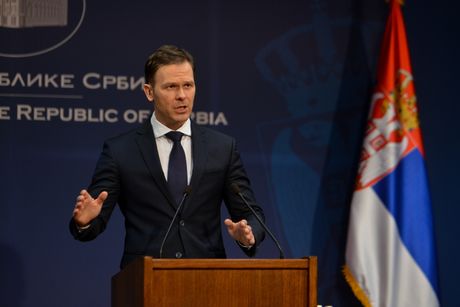 Minister of Finance Sinisa Mali signed on behalf of the Government of the Republic of Serbia a Memorandum of Understanding for the "Belgrade Metro" project.
The memorandum of understanding for the was signed by Minister Mali, the director of JKP Belgrade Metro and Trains Stanko Kantar, vice president of the French group Alstom Philippe Delleur, the general director of the French company Aegis Rail Olivier Bouvart and the representative of the Chinese company Powercina Shie Ziji.
"Today is a big day for all of us and an important step, because these agreements clearly define the rights and obligations of all who participate in this project. It is important that we have defined the rights and obligations of the French and Chinese companies that will work on the construction of the subway. An agreement on financing the part that will be done by French companies was signed earlier, everything is slowly fitting into that one complicated mosaic called the construction of a subway," said Mali.
He stressed that the construction of a depot on Makis will start at the end of the year.
- The first metro line, with a total length of 21.3 kilometers, will be Zeleznik-Mirijevo and will have 23 stations. The second metro line, which would be built later, would also lead to Mirijevo, with the starting station being in Zemun. The 19.2-kilometer route would have a total of 20 stations. We are also working on the concept of a third line that would connect parts of the city that will not be connected with these two lines, and with the BG train," says Mali.
Minister of Construction Tomislav Momirovic pointed out that it is nice to be a citizen of Belgrade today.
"Belgraders must know that the reason why the subway has been talked about for decades, while nothing has been done until this team arrived is that it is very difficult. This is the most serious infrastructure project in the region ," said Momirovic and added that the metro as the crown of all Serbian investments.
The signing of the Memorandum was attended by Minister of Construction, Transport and Infrastructure Tomislav Momirovic, Deputy Mayor of the City of Belgrade Goran Vesic, Ambassador of China to Serbia Chen Bo and Ambassador of France to Serbia Jean Louis-Falconi.
Video:
Mali signed an agreement to start DFC activities in Serbia
(Telegraf Biznis)