Vulin: Novi Pazar situation worries me, there are cases of kids stabbing each other with knives
Addressing the frequent cases of violence in Novi Pazar, Minister Vulin said that he is very concerned, especially bearing in mind that adolescents are among the actors and participants in the violence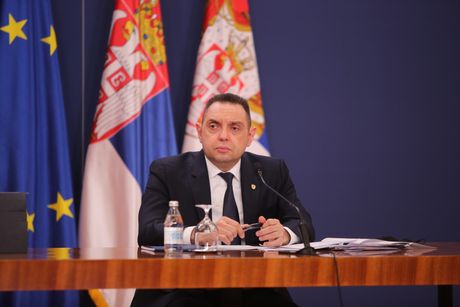 Minister of Internal Affairs of Serbia Aleksandar Vulin was on Pink TV today when he stressed that the priority in the work of all members of the police is the safety of citizens, as well as constant work to seize drugs and suppress street crime.
Commenting on yesterday's seizure of drugs by the border police, Minister Vulin said that it is very important that the Border Police Administration works in a serious and consistent manner.
"I congratulate the Border Police Administration on such a large seizure of drugs, five kilograms of cocaine is a large seizure anywhere in the world. Serbia is a transit zone and, as you can see, drugs come not only from the East, but also from the West. Drug cartels unload their drugs in Dutch ports, and then from there, they are distributed from the West to other countries. The investigation will show, but the Dutch citizen of Turkish origin was probably transporting the drugs to another country. It's important that the Border Police Administration works seriously and constantly," said Minister Vulin.
Addressing the frequent cases of violence in Novi Pazar, Minister Vulin said that he is very concerned, especially bearing in mind that adolescents are among the actors and participants in the violence.
"I am worried about the situation in Novi Pazar, you have cases of kids stabbing each other. They are youths, 19, 20 years old, but they are stabbing with knives. This is not about showdowns between some criminal gangs, but simply, as if there is an awareness that violence is allowed, that it is a way to solve problems. You know, the last time I sent the Gendarmerie to Novi Pazar, the gendarmes were there for 58 days. They did a great job, everything was calm, there were no incidents, but the solution is not to constantly send in the Gendarmerie, to have the Gendarmerie stationed in Novi Pazar and to constantly control traffic and people in Novi Pazar. That simply must be done by the police administration of Novi Pazar," said the minister.
He stressed that he would do everything in the coming period to make Novi Pazar calmer and safer.
"I cannot accept that violence is a way of life, that is out of the question. I will talk to (Police) Director Rebic about that topic and we will see what we need to do to make Novi Pazar safer. Of course, I will also ask all political actors in Novi Pazar and all residents of Novi Pazar for support," Minister Vulin underlined during his appearance on TV Pink's morning program.
(Telegraf.rs)
Telegraf.rs zadržava sva prava nad sadržajem. Za preuzimanje sadržaja pogledajte uputstva na stranici Uslovi korišćenja.