Ivanusa: I expect a new wave of the Covid epidemic, its severity will depend on several things
Ivanusa said parents should know that a recommendation for vaccination of children will not be given for those vaccines that have not been confirmed in clinical trials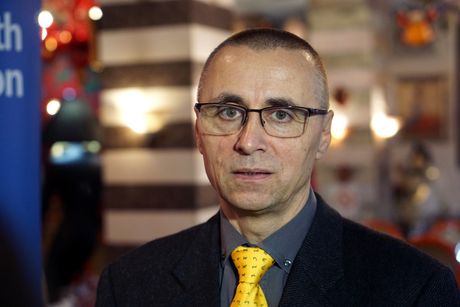 The director of the Office of the World Health Organization in Serbia, Dr. Marijan Ivanusa, says that he did not see a serious study that showed the pandemic could have been prevented.
"My position is that it could hardly have been prevented, considering how we live in the 21st century," Ivanusa told RTS.
According to him, in the beginning, some countries failed to establish a system of preventive measures.
"We forgot very quickly, after the first or second wave, that it would happen. Some countries failed in the race for medical supplies. I think we did relatively well," says Ivanusa.
According to him there are currently two situations - countries where things are very good, like in Serbia, and others like Argentina.
"In Europe, the numbers are much lower than they used to be. In Israel, there was one patient per 100,000 people during last week, in Serbia that number is 20," added Ivanusa.
He said Serbia was among the countries that were severely affected by Covid 19 if we look at the total number of cases per 100,000 people.
"It was among the countries that procured ventilators, protective equipment. Then, vaccines came at the end of last year, and that contributed to the slowing down of the epidemic. A lot has been done very well. I must praise the healthcare workers," said the director of the WHO office in Serbia.
Insufficient number of vaccines for adults
Ivanusa said parents should know that a recommendation for vaccination of children will not be given for those vaccines that have not been confirmed in clinical trials.
"For now, I think it's just Pfizer. The position of the WHO is that vaccination of children is not recommended at the moment, and the reason is very simple. We know that there aren't enough vaccines for adults in many countries. That is why the WHO wants to provide vaccines for priority groups at the global level. Our goal is to vaccinate 30% of the world's adult population by the end of this year. We are far from that at the moment. Children are not a priority group. If there is are enough vaccines, children can also be vaccinated," he noted.
When asked when the Russian vaccine will be approved, Ivanusa said that it will happen when the procedure is completed, if it is completed for the long term.
"The manufacturer should provide complete documentation, trials. Work is underway on that. At the same time, production capacities are inspected. This does not mean that the Russian vaccine is not good. The results in medical journals were top notch, it's just that now it needs to go through the administrative procedure," explains Ivanusa.
Video:
Approval of Pfizer vaccine for young population in a few days
Many variants of the virus
Many countries, he said, are considering purchasing vaccines for the third dose.
"We must see how effective the first vaccination is. I believe that the third dose will be administered, but for now we don't have a position on when and to whom," he said.
Ivanusa stressed that there are several different strains, many variants of the virus.
"We usually talk about five, six, seven. For now, vaccines seem to protect quite well from these new strains. The strain that was first discovered in India is spreading faster," Ivanusa pointed out and added that the strain that appeared in Vietnam is very similar.
People should get vaccinated, he noted.
"It is absolutely safest to be vaccinated. If they go on vacation, they should be reasonable. Avoid discos, respect the measures, because the vaccine is not 100 percent effective either," warned Ivanusa.
He stressed that two billion doses of vaccines have been administered around the world so far.
"There are a large number of people who have a certain protection against the virus, but there are large pockets of unprotected people in both Serbia and Europe. I expect that a new wave will come, and how severe it will be depends on how many people will be vaccinated, what type of virus will appear and how much we will respect the public health measures," concluded Ivanusa.
Video:
Is a new wave arriving in the fall?
(Telegraf.rs)
Pošaljite nam Vaše snimke, fotografije i priče na broj telefona +381 64 8939257 (WhatsApp / Viber / Telegram).