State starts paying out 3,000 dinars to citizens who got Covid vaccine and registered for aid
Half a million registered citizens will receive money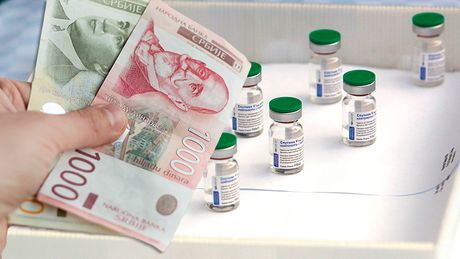 The deadline for registering for 3,000 dinars, which concerned all vaccinated citizens, has expired, and some have already received the money. Today payment starts to all other citizens, i.e. for half a million of those who registered.
By the end of the week, they will all be paid.
Registration was open until two days ago, and on June 16, the money was deposited into the accounts of pensioners who got vaccinated with at least one dose of the coronavirus vaccine by May 31.
On June 17, as previously confirmed by the Ministry of Finance, all other citizens will be paid. So far, a total of 1.2 million citizens of Serbia have applied for this state aid.
Electronic application on the site pmi.trezor.gov.rs started on June 1, and starting June 4, vaccinated citizens could also register for that money by calling toll free number 0800-100-302.
As the minister of finance said earlier, this measure is not only economic, but should additionally motivate people to receive the vaccine for the sake of their health.
"A total of 1,395,000 citizens have applied, if we add to that all pensioners who did not have the obligation to apply, but will automatically receive money, that is a total of 2,401,000 citizens," said Sinisa Mali.
He said that 2.5 million citizens who were vaccinated by May 31 were entitled to 3,000 dinars, and he pointed out that almost everyone who was vaccinated also applied for this type of support.
Mali stressed that this is not the end of state aid, and that by the end of the month, as part of the third aid package, the third installment will be paid out to auto carriers..
Video:
This is how you register for 3,000 dinars for getting vaccinated in 2 clicks
(Telegraf Biznis)
Pošaljite nam Vaše snimke, fotografije i priče na broj telefona +381 64 8939257 (WhatsApp / Viber / Telegram).