Djerlek: No giving up on Covid passes, they are ready, Crisis HQ meeting is expected
There are no legal restrictions, the final decision should be made by the Crisis HQ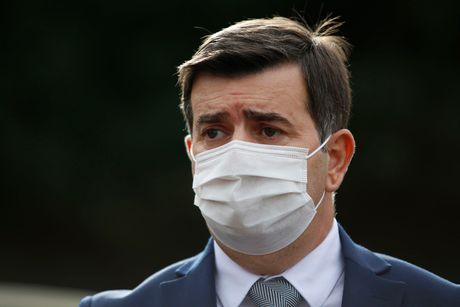 We have not given up on Covid passes in Serbia, on the contrary, everything is ready for their introduction, State Secretary at the Ministry of Health Mirsad Djerlek told Telegraf.rs. He said that there are no unconstitutional restrictions for their introduction, and that a final decision of the Crisis HQ is awaited, whose meeting is expected.
"Almost everything is ready for Covid passes, and a definitive decision is awaited. Lawyers say that this is not unconstitutional, especially in those places that the prime minister mentioned and where people do not have to be. We don't have to go to nightclubs, restaurants and bars. It's important that we harmonize all that with the Constitution and that we don't have people who will tomorrow invoke a violation of human rights, the Constitution, and we have already clarified that with lawyers. We are just waiting for the decision of the Crisis HQ to see how it will be implemented and to see how each institution individually will behave on that issue," Djerlek told Telegraf.rs.
Responding to our remark that based on statements that could be heard in previous days, Serbia is "late with the Covid passes" and that the impression is that the idea has been abandoned, he responded by saying:
"No, no... There is no giving up, no surrender. Surrender is not an option and it's never too late to establish control over the epidemic. Covid passes can be a very important means of establishing control over the epidemic because we will stop the mixing of vaccinated and unvaccinated people, and thus prevent the spread of the virus. So it's not too late, of course. We certainly have many more years ahead of fighting coronavirus, because by not having a sufficient number of vaccinated people, we have extended the existence and survival of the virus here, and that fight will continue. On the contrary, I hope that we will benefit from the introduction of Covid passes," Djerlek stressed for Telegraf.rs.
The decision on the introduction of the Covid certificate was made at the session of the Crisis HQ for the fight against coronavirus, which was held on Saturday, September 11. Prime Minister of Serbia Ana Brnabic said at the time that they would be introduced in nightclubs, bars, cafes, and indoor restaurants.
"We are preparing for the introduction of Covid certificates, if necessary. The final decision will be made in a few days, but the agreement reached by the Crisis HQ is for everyone to prepare for the introduction of the Covid certificate," said the prime minister, adding that the Office for eGovernment and everyone else will have time to prepare so that when the decision is made, it can immediately be implemented:
"If Covid certificates are introduced, and in order to be in accordance with the Constitution and human rights, they will be introduced in areas where it is not necessary for people to be, and where there is a high possibility of infection. These are nightclubs, bars, cafes, indoor restaurants."
The prime minister pointed out that such certificates will not be needed to enter retail facilities.
Telegraf's Crisis HQ source told us at the time that these passes would not apply to shopping malls either, but that stewards would be under obligation to check compliance with the measures there and in retail facilities, and will be checking Covid passes in those facilities where they will be mandatory.
"The agreement is that Covid certificates will be introduced first in restaurants, cafes and night clubs, while they will not be needed in retail facilities and shopping centers. In time, the list of places where they will mandatory will be expanded, so we will see if they will be necessary for sporting events and concerts," the source from the headquarters told Telegraf.rs.
Who will have to have them?
Our source said that Covid passes, in those places where they will be obligatory, will most likely have to be had by the persons who are included in the vaccination against coronavirus in Serbia.
"In Serbia, children from the age of 12 and up are also vaccinated, so it is not being ruled that they will also have to have them, but that is something that will still be talked about. Basically, all those who are included in the vaccination, the plan is that they should have them," our interlocutor said.
What will Covid certificates contain?
Covid certificates, as he explained, will be available to everyone electronically, and they will contain three items.
"In addition to personal data, the certificate should also contain one of the three pieces of information, namely whether a person has been vaccinated and with how many doses, whether they have had Covid 19 in the previous 6 months, as well as whether they has a negative antigen or PCR test," our source said.
Otherwise, it could be heard earlier from Dr. Predrag Kon that Serbia is "a little late" with introducing these passes.
"We discussed this very seriously back in May, at the city level. It was said that their introduction is unconstitutional and the discussion about it stopped," Dr. Kon said last week and added that the alternative are lockdowns.
Milanko Sekler, a virologist and microbiologist at the Veterinary Institute in Kraljevo, also said that it was too late to get the right effect from introducing Covid passes.
(Telegraf.rs)
Telegraf.rs zadržava sva prava nad sadržajem. Za preuzimanje sadržaja pogledajte uputstva na stranici Uslovi korišćenja.