Wounded Serbian tennis player whom Novak helped: "The hardest days of my life, I barely survived"
Novak Djokovic and Olga Danilovic are among the many who helped with donations needed for his surgeries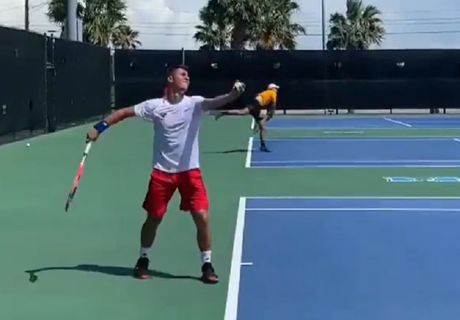 Serbian tennis player Luka Stojanovic, who was in the United States when he was shot by thieves who tried to steal his car, spoke up and revealed his condition and how his recovery is going.
"The past 30 days have been perhaps the hardest days of my life. As many of you have heard, I was shot and barely survived after several surgeries. I've received a lot of support in the last month and I can't explain how much it meant to me while I was in the hospital. The recovery will be long, but it is going in the right direction," Stojanovic wrote on social media.
Novak Djokovic and Olga Danilovic are among many who helped with donations for his surgeries, and Luka added that the only way to help him was precisely that financial aid.
"Unfortunately, after the surgeries, I was left with a bill of 310,000 dollars, of which the insurance covers 80%, while I have to cover the rest. I don't feel comfortable because of this, but it's the only option I have - currently donating money is the only option that can help me, any amount would be helpful," Stojanovic posted online.
(Telegraf.rs)
Pošaljite nam Vaše snimke, fotografije i priče na broj telefona +381 64 8939257 (WhatsApp / Viber / Telegram).