Vesic: "Kurti, not Belgrade, is the address for war"
Vesic said that conflicts in the Balkans, at a time when Europe finds itself in the situation it is in, do not suit the EU and the US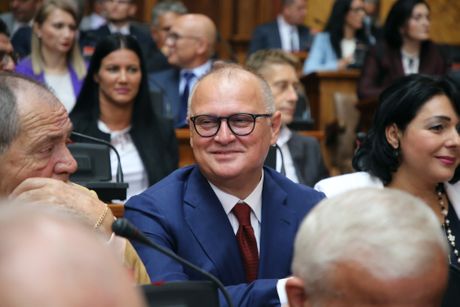 Serbian Assembly member and member of the Presidency of the Serbian Progressive Party Goran Vesic says that the statement issued by the EU External Affairs Service expressing concern over a recent escalation in Kosovo and Metohija and equating the responsibility of the Serbian side with that of the authorities in Pristina is "scandalous."
Appearing on TV Happy's morning program, Vesic said that "the European Union, if this statement represents the official position of European institutions, justifies the violence that the prime minister of the provisional institutions in Pristina, Albin Kurti, tried to carry out on August 1, endangering the lives of Serbs and Albanians."
"When it comes to the processes concerning Kosovo and Metohija, Serbia has always behaved responsibly. We have shown that we are committed to dialogue and committed to preserving peace by respecting the Brussels Agreement," said Vesic.
He stressed that that "the European Union should influence Kurti not to take unilateral moves that could destabilize the region".
"At least let them convince Kurti to implement the Brussels Agreement, which, as its name suggests, was signed in Brussels, and behind which stands the European Union, while Pristina not implementing it is a humiliation of the Union itself. President Vucic and Serbia want dialogue and peace, with none of our moves so far having contributed to the growing tensions. Kurti constantly wants to provoke a war with his inflammatory statements and shows of force. So when they condemn inflammatory statements, let them address that to the right place for war in the Balkans - to Kurti," said Vesic and added that "someone in Brussels could consider who in Europe unrest in the Balkans would suit now, and for who Kurti is doing this."
Vesic said that he is "sure that conflicts in the Balkans, at a time when Europe finds itself in the situation it is in, do not suit the EU and the US."
"They suit Serbs and Albanians the least. Nor do they suit Albania, which cooperates with Serbia in the Open Balkan project and is building a new Balkan future. Time will tell whom conflicts suit, apart from Kurti, and who causes them," said Vesic.
Video:
Goran Vesić: Ako se moje i stranačke želje poklope, radiću konkretne stvari
(Telegraf.rs)
Telegraf.rs zadržava sva prava nad sadržajem. Za preuzimanje sadržaja pogledajte uputstva na stranici Uslovi korišćenja.