Stoltenberg meets with Kurti: Everybody noticed one detail from the press conference
Stoltenberg, after the meeting with Kurti, reiterated that KFOR is ready to intervene if the stability of Kosovo is threatened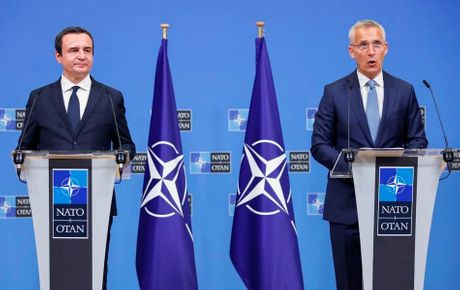 After meeting with President of Serbia Aleksandar Vucic NATO Secretary General Jens Stoltenberg also spoke with the Prime Minister of Pristina's provisional institutions Albin Kurti.
After the meeting, Kurti and Stoltenberg addressed journalists, but it caught everyone's eye that the flag of so-called Kosovo was not displayed in Brussels.
Stoltenberg reiterated that KFOR is ready to intervene in the event that the stability in Kosovo and Metohija is threatened, stressing that the NATO mission there is fully committed to the mandate in accordance with UN Security Council Resolution 1244.
As Stoltenberg said, KFOR will continue to provide a safe environment and free movement in the area of Kosovo and Metohija.
"The KFOR peacekeeping mission is there and its commander has contacted security organizations in Kosovo and the Chief of Staff of the Serbian Armed Forces... KFOR is ready to intervene if stability is threatened," Stoltenberg told the joint conference.
When asked by Albanian journalists what else needs to happen other than the barricades in order for KFOR to intervene, Stoltenberg replied that NATO has almost 4,000 soldiers in Kosovo and Metohija, the strongest mission outside of NATO territories, stressing that the mere presence of so many soldiers helps in deescalating and preventing violence.
The head of NATO repeated after the conversation with Kurti that the agreement between the two sides and resolution of disagreements in the dialogue under the auspices of the EU is the only way to reach sustainable peace.
Albin Kurti told journalists that in conversation with Stoltenberg he conveyed that Pristina is seeking membership in NATO.
"Our country also feels the threats, dangers and challenges that NATO is facing today. Institutions have reason to be vigilant about the harmful Russian agenda for the Balkans and Europe. The government and the people of Kosovo welcome your trust and commitment to lasting peace and security," Kurti said.
Asked if there is a possibility that Pristina will abandon the decision to force re-registration of vehicles with Serbian license plates, Kurti answered in the negative, stating that Pristina fulfills its legal obligations, adding Belgrade agreed to this back in 2018.
Kurti said that Pristina launched a campaign to inform Serb citizens and provided a financial incentive so that during the conversion, Serb citizens will not have to pay VAT or customs duties, which, as he says, can go up to 5,000 euros.
When asked if he agrees with the view that both sides are responsible for a possible escalation, Kurti said that "there are two sides."
One, he claims, is a democratic Kosovo, and the other is "the illegal structures of Serbia in the north."
Video:
Vucic: For Serbia, peace and stability are of crucial importance
(Telegraf.rs)
Pošaljite nam Vaše snimke, fotografije i priče na broj telefona +381 64 8939257 (WhatsApp / Viber / Telegram).