Vreme čitanja: oko 2 min.
Zeljko searches debris in Turkey: "Smell of lifeless bodies can be sensed, the last moments to do something"
Vreme čitanja: oko 2 min.
The Turks are grateful that we are here, they approach us and share with us what they have, although they also need it. You can tell that these are good people, says Jankovic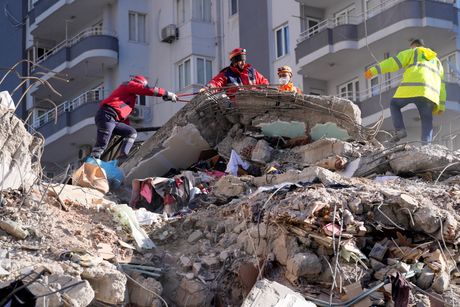 Members of the Civil Protection of the Serb Republic (Republika Srpska, RS) have since yesterday been engaged in the search for survivors in Kahramanmaras, one of the towns in Turkey most devastated in the catastrophic earthquake that struck the country on Monday.
Zeljko Jankovic, a former special forces officer, has been working as the chief RS inspector for protection and rescue for eight years, and has seen all kinds of things in his life, but never such scenes of mass suffering.
"Half the city has been destroyed. You can already sense the smell of corpses and it will get even worse, because last night it was very cold, maybe minus 15 if not less, and during the day the sun will heat up and very soon you won't even be able to approach the wreckage" Jankovic told Avaz.
It is hard to prevent families from participating in the search for their loved ones, so no one tries to do that anymore.
The time to believe in miracles - that someone is still alive under the collapsed buildings - is running out.
"There are people are under debris and it's difficult to act according to some of the measures that normally apply in such situations. The Turks are grateful that we are here, elderly men and women approach us, give us chocolate, something they have with them even though they also need it. You can tell that these are good people," says Jankovic.
In the frantic fight against time, he adds, this may be the last day when something can be done.
"I think it's hard to find someone (alive) anymore because these are not healthy but injured people, pressed by something, without oxygen..." says Jankovic.
On February 6, two devastating earthquakes measuring 7.7 and 7.8 on the Richter scale shook Turkey and nearly destroyed ten provinces. The earthquakes also caused destruction in many parts of Syria, and the number of victims in both countries exceeds 16,000.
(Telegraf.rs)
Telegraf.rs zadržava sva prava nad sadržajem. Za preuzimanje sadržaja pogledajte uputstva na stranici Uslovi korišćenja.