Vreme čitanja: oko 5 min.
Presidents of Serbia and India: "We will consider establishing direct flights between Delhi and Belgrade"
Vreme čitanja: oko 5 min.
The president of India arrived in Belgrade yesterday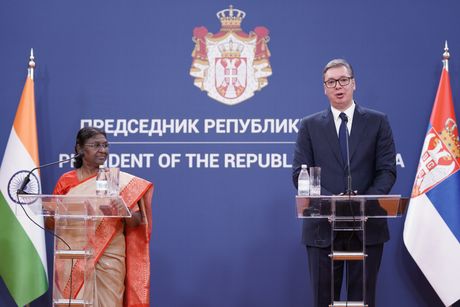 President of Serbia Aleksandar Vucic today formally welcomed the president of India, Droupadi Murmu, in front of the Palace of Serbia in New Belgrade.
"This is the first visit of an Indian president since 1972 and I am particularly happy to be your host for these two days. I am convinced that at every step you could witness the hospitality, the friendly attitude towards the people of India dating back to 1948, when we established diplomatic relations between the two countries," Vucic stressed during a news conference after his meeting with Murmu, and added, addressing his Indian counterpart:
"I want to thank you for the support for the territorial integrity of the Republic of Serbia (related to Kosovo and Metohija), your respect of public legal norms, the United Nations Charter. We believe that in every institution and organization in the world, no one can violate the space for our closest cooperation."
Vucic stressed that today they discussed the six most important areas, and that political cooperation should be the foundation for all upcoming economic affairs.
"Today we talked about the overall cooperation between our two countries, which has started to improve, and I believe that today's visit by the president of India will mean further improvement. Our trade is growing, but it is insufficient, taking into account the potential of cooperation between the two countries, it's somewhere around 330 million euros, but we believe that it can be ten times, twenty times higher. We discussed and formed joint bodies that will deal with problem solving and that will ensure easier cooperation.
Private Indian companies and our national carrier will consider, with the support and subsidies that both countries would give to interested companies, establishing direct flights between Delhi and Belgrade, which would mean more contacts between our business people and many more tourists."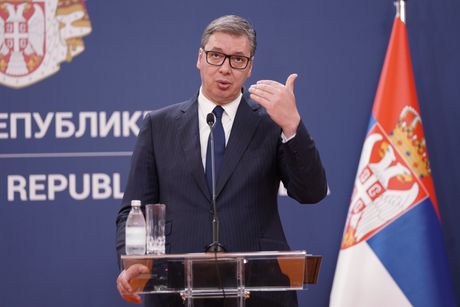 Simplifying the visa regime
"You know that there were no visas, but after the decisions of the European Union we had to change that, and I gave an order to, in the next seven to 10 days, completely simplify the visa regime with India so that we could attract a much larger number of tourists and business people.
Vucic stressed that they specifically discussed cooperation in the field of defense.
"India is one of the largest producers and buyers in the world market of weapons and (defense) equipment. I believe we can create great cooperation in the future. We also talked about cooperation in the field of pharmacy and medicine because we already have special support from India in the form of what are known as generic drugs, and we will yet have it, the whole of Europe will have them at significantly more favorable prices."
Vucic also touched on investments, including those in the IT sector.
"Our goal is to attract a number of Indian investors, you know that Tata (Motors) also cooperates with Stellantis, and we expect the start of Stellantis' electric car production in Kragujevac. I believe that we will be able to establish some kind of cooperation with Tata in the future.
India is one of the countries with the strongest growth of startups, a country that will probably have the highest growth in the whole world, of over 7 percent. I believe that we can share our experiences, but also do certain things together. Soon we are building a fifth science park in Kragujevac and we will offer them to work with us on that."
The president also pointed out that the exchange of products will grow.
"We already export a significant part of our apples to the Indian market, there is great interest in raspberries and berries and we believe that we can achieve additional cooperation there, in terms of seeds but also frozen fruit, India is a huge producer but you cannot easily store all those products."
Investment in energy was also one of the topics, as India is one of the largest producers of renewable energy.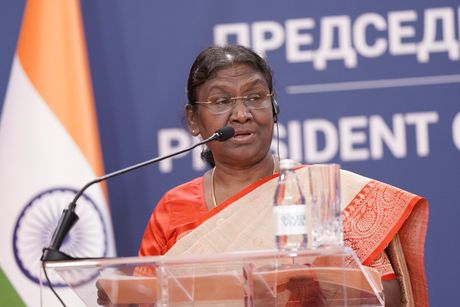 After Vucic's address, the floor was given to the president of India, Droupadi Murmu.
"We are determined to further build on our bilateral relations when it comes to investments in scientific technology and to promote relations between people. We agreed to strengthen our coordination and cooperation in the United Nations and other multilateral bodies," stressed Murmu and added:
"Serbia is a traditional friend and therefore we are very interested in cooperating with Serbia and we want to continue working with it, whether it is about communication, direct flights, we want to establish partnerships that will improve our relations."
Serbian-Indian forum in progress
A Serbian-Indian business forum, which gathered around 100 Serbian and Indian business people, in the presence of Serbian President Aleksandar Vucic and Indian President Droupadi Murmu, took place in Belgrade today.
The forum was organized by the Chamber of Commerce of Serbia in cooperation with the Federation of Indian Chambers of Commerce, and the support of the Embassy of India in Belgrade.
According to announcements, the business community was to be presented with the economic potential for cooperation between Serbia and India, and after the plenary part, B2B meetings were to be held.
"We wish that after this forum, more Serbian goods will be in the Indian market, to attract Indian investments in our manufacturing industry and to connect our IT sector with Indian and global technology companies, and to learn from Indian experiences in education and high technologies, connect our scientists and faculties and put those connections into the function of efficient business," said President of the Serbian Chamber of Commerce Marko Cadez.
The leader of the economic delegation of India, Sanjay Soni, said today that Serbia, by strengthening its capacities, can be a reliable partner for India.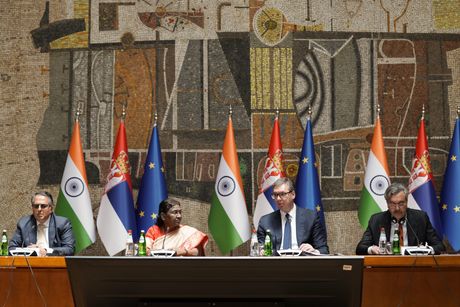 Soni pointed out that it is a privilege for him to represent the Indian industry.
"The Indian economy is growing rapidly. We have strong economic ties with many nations. We have strong ties and friendships with Serbia," said Soni.
He added that he is glad to see the potentials that are expanding - in the fields of defense, engineering and the pharmaceutical industry, among others.
"As Serbia focuses on strengthening its capacities, it can become a reliable partner to India," said the leader of the economic delegation of India.
According to him, this visit should further strengthen cooperation between the people of the two countries and enable further growth for future generations.
(Telegraf Biznis)
Telegraf.rs zadržava sva prava nad sadržajem. Za preuzimanje sadržaja pogledajte uputstva na stranici Uslovi korišćenja.