Dacic: EU membership is not around the corner, it's rude to attack us because of Eurasian Union deal
He pointed Serbia will have to, once it becomes a member - just as Croatia had to do when it joined the EU - respect EU's decisions Foto: pixabay.com
Foreign Minister Ivica Dacic stressed today that Serbia has the right to sign free trade agreements up to the point when it joins the EU - which is not around the corner and cannot be spoken about as a near future.
Dacic said that at a meeting of EU foreign ministers with "Western Balkan partners" in Helsinki, there were questions on the sidelines about what the free trade agreement with the Eurasian Union means.
"There are no ambiguities or disputes regarding the EU. This is not about some kind of membership, it's a free trade agreement that we have signed with several countries in the world, and some of those countries are also gathered around the Eurasian Union," Dacic explained to his interlocutors.
He pointed Serbia will have to, once it becomes a member - just as Croatia had to do when it joined the EU - respect EU's decisions, and that it will not be able to have independent free trade agreements with other countries.
"But that's when we join the EU. It's not around the corner. We are not talking about this as a certain and near future," Dacic emphasized, adding that it's rude for anyone to now attack Serbia for working to advance its own interests.
He expressed regret over the change in the format of the traditional meeting, which is organized every six months.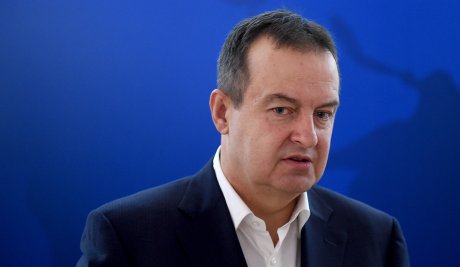 However, he estimated that EU High Representative Federica Mogherini changed his format for her own reasons, i.e., the end of her mandate, and that not only candidate countries but "Western Balkan partners" have also been invited.
"This was primarily done so that ministers from Kosovo and from Bosnia and Herzegovina could participate," he said.
Dacic said that Serbia expressed its dissatisfaction with the format change, but that he would participate in all meetings held in the (informal) Gymnich format.
"We believe there was no reason for the meeting with candidate countries not to take place, while this one could have been organized at any other time," he said.
He said that at the meeting, most EU ministers spoke positively about the enlargement process, while Western Balkan ministers were not overly optimistic and positive.
Dacic presented Serbia's stance on regional stability and cooperation, as well as its willingness to compromise.
He once again urged Pristina to abolish its taxes on Serbian goods, adding that it would be an illusion to talk about regional cooperation while the taxes are in force.
He recalled that the EU was the guarantor of the Brussels Agreement, noting that nobody today mentioned that the deal has not been implemented, including its most important part - the formation of the Community of Serb Municipalities (ZSO).
Dacic responded to requests to stop lobbying for withdrawals of recognitions of Kosovo by asking, "Will you stop lobbying for Kosovo" - a he said nobody answered.
"I said that since the start of the Brussels negotiations, more than 25 countries recognized Kosovo without us complaining, but they are now complaining. 'Let's all have a moratorium'. But it has nothing to do with the taxes, which must be abolished," he underlined.
According to him, the meeting was useful in terms of exchanging opinions, but there was nothing spectacular and no new messages towards Serbia.
Dacic said that the most positive thing about Serbia was said by Hungarian Foreign Minister Peter Szijjarto, and that not all EU ministers were in Helsinki today, including the Spanish foreign minister who stayed away because "partners" instead of EU candidate countries had been invited.
"A good message for us from the meeting itself is that they are still counting on the Western Balkans, but it's a long road to this becoming a certain, near future. I hope we will traverse that road," Dacic concluded.
(Telegraf.rs/Tanjug)